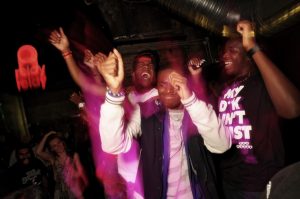 If you want to hear rap and hip-hop on a weekend night in the City of Angels, your options are limited. If you're willing to dress up, pay a cover and order bottle service, you can head to the clubs in Hollywood. If you'd prefer something more laid-back, you could choose a hipster dive bar, but be prepared for a track list of overplayed, run-of-the-mill, old-school jams. Or you could opt for a warehouse party filled with kids half your age.
"There seems to be no middle ground in the rap club scene," says British DJ and promoter David Sadeghi, better known in the hip-hop scene as Davey Boy Smith. Luckily for hip-hop heads, Sadeghi has a solution to this problem in the form of a monthly rap dance party called Southern Hospitality at Los Globos.
The event, which has been held in London in various forms and iterations since 2004, is the antithesis of what one would normally expect from a rap party. It's not scene-y or gaudy, but laid-back and welcoming. The dance floor is huge and if you want to twerk sans smirks and Miley Cyrus references, this is the place to do it (there's even mirrors on the walls so you can watch your performance).