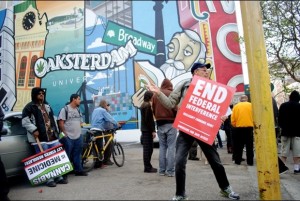 Medical marijuana dispensaries often strive to keep a low profile, but this has been even more the case than usual after federal agents raided Oaksterdam University and the home of founder Richard Lee on Monday. Half a dozen East Bay dispensaries responded with "no comment" when asked about how their organization was reacting to the raid, and others ignored voicemails. An employee at Crystal Paradise Delivery, a medical marijuana delivery service based in Emeryville, declined to comment, but he did say that the business was "just watching and waiting to see what happens, I guess."
To date, there are no known closures of other dispensaries in the East Bay as a reaction to Monday's raid. For many dispensaries, such as Oakland's Harborside Health Center and the Berkeley Patient's Care Collective, it's business as usual. But this doesn't mean that staffers don't have their fears.
Erik Miller, the manager at the Berkeley Patient's Care Collective, a dispensary in Berkeley which just celebrated its eleventh year in business, said that he is always worried that the city or federal government might shut the collective down. "So far so good," Miller said, "but we're always concerned."
Worrying about the future is not uncommon for dispensary owners and managers, said Steven DeAngelo, executive director of the East Oakland dispensary Harborside Health Center. "I decided five years ago when we opened our doors that this was a risk that was worth taking," he said, "that this was a medicine that people desperately need and that I was going to continue doing it as long as I was physically able to do so."
Worrying, DeAngelo said, is probably the reason why the staff at many dispensaries are reluctant to talk about the raid and their thoughts about it. "I think that other dispensaries are afraid that if they go public the way that Rich Lee went public, then they'll be punished in the same way that Rich Lee has been punished," he said.
In addition to founding Oaksterdam, Lee was also a lead organizer and fundraiser for Proposition 19, the failed 2010 ballot initiative that would have legalized recreational cultivation and use of marijuana. "It's not a coincidence," said DeAngelo of the connections between Lee's political visibility and the Monday raid.
DeAngelo believes that the federal government and Department of Justice are not targeting dispensaries in general, but rather persons of power and influence, such as Lee, who campaign for the legalization of marijuana. "These are not profiteers. These are the leaders of the movement," DeAngelo said of people like Lee. "These are the people who have been outspoken in defense of patients' rights, and I believe that the federal government has specifically targeted leaders of this movement."
For now, business will continue as usual at both the Harborside Health Center and the Berkeley Patient's Care Center. "We're not really changing anything we do," DeAngelo said, adding that Harborside has always been vigilant in checking the validity of marijuana prescriptions. "We've always done our very best to be one-hundred percent faithful to the law and permit conditions and we'll just keep on doing that. That's what we do." The only possible change that may occur, he said, is that Harborside and other local dispensaries might experience an increase in customers who were former Oaksterdam patients.
Oakland has a long history of supporting the marijuana industry. The city is home to key proponents of Proposition 19 and many officials, including former city attorney John Russo, have spoken out in favor of it. Councilmembers have welcomed dispensaries in the hopes of raising tax revenues and in the past have voted to permit the development of large pot farms. But dispensaries and the premise of recreational post use are not received as warmly outside of Oakland. In California it is legal only for medical use and under federal law it is illegal.
On Monday afternoon, DeAngelo sent out a press release expressing his frustration with the government, which he felt had wasted its resources on the raid while ignoring more serious issues, such as the shooting at Oikos University that occurred later that morning. "There is no question that the federal government could have substantially reduced the number of guns on Oakland streets, if they devoted the same resources to that problem as they have to medical cannabis," he wrote in the letter.
Agents from the Drug Enforcement Agency, Department of the Treasury and the US Marshalls participated in the raid, while Oakland police officers did crowd control on the streets outside the Oaksterdam facilities.
Miller said he was also upset with the federal government, which he said was "wasting their resources raiding legitimate medical dispensaries and reducing access for patients to get their medication." Because of the raid, he said, the Oakland Police Department's services were being used on crowd control when they could have been used to stop the shooting a few miles away. "It's too bad that their resources were being used that way," Miller said.
Jason Overman, communications director for Oakland City Councilmember Rebecca Kaplan (at-large), who has been a vocal critic of the raid, said that the raid came as a surprise and that he still doesn't understand why it happened. "They didn't tell us they were coming. They didn't check in with us," said Overman, speaking on behalf of Kaplan.  "Was there a crime committed and if so, what was it? Who committed it? And who was the victim? From where I'm sitting I don't see it."
Like Miller and DeAngelo, Overman felt attention and resources had been directed at the wrong issue. "We saw crime happen yesterday, violent gun crime, in which people were killed in our city," Overman said.  "If there are extra federal law enforcement resources for that we would love those federal law enforcement resources to be directed at people that are the victims of violent crimes on our streets."
–Published on OaklandNorth.net on April 4, 2012–