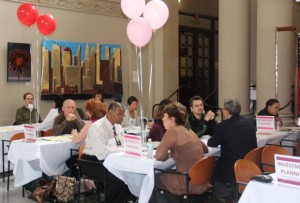 Money was the theme of the day on Saturday as hundreds of people flocked to City Hall to partake in Financial Planning Day, a free event that provided no-obligation financial advice and counseling. The event was hosted by the city of Oakland and the East Bay chapter of the Financial Planning Association (FPA), a networking organization for certified financial planners, and offered attendees both workshops and one-on-one meetings with certified financial planners.
Now in its second year as a national event, Financial Planning Days have grown in popularity; during the first four hours over 300 people attended the Oakland event.  Dozens of participants waited their turn on the balloon-decorated mezzanine to meet with one of the many financial advisors seated in rows of long, white tables for 15 minutes at a time. Below, on the ground floor, workshops were held in classroom-like settings, and featured both lectures and power point presentations.
Haly Pilgrim, an employee at the Oakland International Airport, took the day off of work to attend. "I'm pretty bad at money planning, 401(k)s, and those kinds of things," she said. "I thought that I could come and maybe get some idea on how to invest in stuff like that."
Others were happy to just get clear, easy-to-understand financial advice and to have their questions clarified. "I've always been intimidated just by asking a question because I think that everyone else already knows what they're doing and I'm the dumb one," said Oakland resident Dan Sawran "There's just so much out there and I have no idea where to start."
Free financial advice workshops are no new thing to Oakland. In fact, Financial Planning Day itself is modeled in large part after local certified financial planner Frank Pare's financial planning clinics, which he first started organizing in 2008.
"There are a lot of smart people out there who, at the end of the day, do not want to spend their time trying to understand the difference between a mutual fund and an annuity," said Pare, who owns PF Wealth Management Group, an independent investment advisory firm in Oakland. "It's plain and simple. Studies have shown people spend more time planning their vacation then they do retirement."
Pare first got the idea for the clinic when he volunteered at the annual Certified Financial Planners Board meeting in Los Angeles in 2007 and doled out advice to attendees interested in learning more about retirement planning and cash flow management.  "A person across from me sat down and started telling me the challenges that he was going through and it was one person after another," Pare said. "I thought, 'Wow, what a cool idea. It would be great to have this in Oakland.' "
Over the next two years, Pare worked to make this idea a reality, working in close contact with elected city officials and joining the East Bay chapter of the FPA.  The most important thing, he said, was to make sure that participants got the help and the advice they needed. It was not about making money or finding new clients. In fact, all forms of promotional material or contact information are banned from the events. "The only thing you're allowed to use is a pen or a pencil, a pad, and a calculator. Nothing else," he said.
Each year, between 40 and 50 financial advisors, specialists, and representatives from both local and national banks volunteered their services at Pare's clinics. After the second year, when a video of the event was uploaded onto Youtube, it caught the attention of the national Financial Planners Association.
"More chapters found out about it," said Pare, who was then contacted by the United States Conference of Mayors, a nonpartisan organization of over 1,000 mayors, to write a resolution on how other cities across the country could host similar clinics. Less than a year later, the FPA decided to host similar events in other chapters throughout the country. Financial Planning Days are now held in 31 cities throughout the month of October.
In addition to workshops and advice on general financial planning, new topics gleaned from conversations with elected officials, are added each year. This year, the focus was on financial crisis management and included topics such as foreclosure and credit counseling. "What we've learned over the past couple of years is that people come to these events for all kinds of reasons," said Pare, "and it's always important to adjust the focus based on what people seem to want."
Leah Maddock, a researcher at UCSF, said she attended the event to get financial advice that she would have otherwise paid a lot of money for.  "I'm a single mom and I've put myself through college and grad school, so I have a lot of student debt and some credit card debt, too," said Maddock. "My son is also starting college in a few years and so I'm trying to see how I'm doing with that."
Sal Tompkins brought her portfolio along because she wanted feedback from the financial advisors. "I wanted to see what they thought of what I'm doing and if I'm on the right track," she said. "I wanted to take full advantage of this."
Looking back over the last four years, Pare said he is glad that the event has grown so quickly in such a short time. "We, as an industry, have an opportunity to make a difference in society by helping those people who perhaps have no clue that this industry exists," he said. "This is just one small step in that direction."