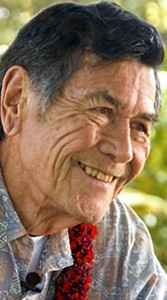 It's impossible to have grown up or lived any portion of your life in Hawaii and not know the creative talents of artist and art historian Herb Kawainui Kane.
Born in Minnesota in 1928, Kane was actually raised in Waipio and Hilo on the Big Island and in Wisconsin. After serving in the Navy, he studied at the School of the Art Institute of Chicago.
In 1970, while in his 40s, Kane left a successful career as a graphic artist in Chicago to return to Hawaii, where he fell in love with Polynesian and South Pacific culture and history. His magnificent murals, artwork and articles about Hawaii's history have graced the walls of the Hawaii State Foundation on Culture and the Arts and the National Park Service.
In 1973, he helped found the Polynesian Voyaging Society and guided the building of the Hokulea, the first voyaging canoe built in the Hawaiian Islands in more than 600 years. His paintings depict Hawaiian myths and important historical events, such as Captain Cook entering Kealakekua Bay.
In 1984, he was celebrated as a "Hawaii Treasure" by the Honpa Hongwanji Mission of Hawaii. His work was so valued that in 2005, a thief used a circular saw to cut Kane's 20-foot mural depicting Polynesian life in the 1800s from a wall at Punalu'u Beach. Kane passed away on March 8 at the age of 82 from an illness, and his many contributions to Hawaii will be cherished.