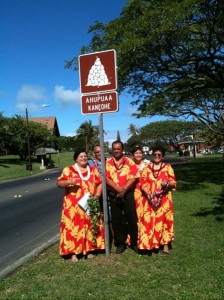 In the midst of the sprawling metropolis that is Honolulu, it is hard to imagine a time when the entire island was divided into clearly marked ahupuaa. Now we can rely on districts, neighborhood divisions and city boundaries to tell us our location. Prior to the existence of our oh-so-helpful retroreflective 7-foot tall traffic signs, people relied on simple heaps of stones (ahu) topped with offerings such as kukui wood carvings to mark boundaries.
In an effort to raise awareness of ahupuaa and promote environmental stewardship, a grassroots effort has developed on the Windward coast to install ahupuaa boundary signs throughout the community. They are akin to the present-day concept of watershed areas and moku (a political district of two or more adjacent ahupua'a).
The idea for the project, known as the "Koolaupoko Ahupuaa Boundary Marker Project," originated in the Koolaupoko Hawaiian Civic Club, which then persuaded a number of other Windward civic clubs–Kailua, Waimanalo and Manuanalua–to join in.
"It's a cultural awareness program," says Mahealani Cypher, project coordinator for the club. "Itʻs really to teach everyone–not just native Hawaiians–that these traditional land units were a good way for people to take care of their own backyards," she says.
On Jan. 28, the first of 16 ahupuaa boundary markers was unveiled, marking the division between the Kailua ahupuaa and the Kaneohe ahupuaa. Although there are only 11 ahupuaa on that side of the island, duplicate signs are in the works to mark the boundaries at both mauka and makai points.
The signs, featuring a symbol of the traditional ahupuaa ahu, have been adopted by the State Department of Transportation (DOT) as the new state standard for marking ahupuaa, Cypher says.
Influenced by their efforts, a similar civic-club-sponsored project has sprouted up on the Leeward coast, which intends to work with the DOT to install ahupuaa boundary marking signs in the area. The project was funded by grants from the Office of Hawaiian Affairs and the Harold KL Castle Foundation.