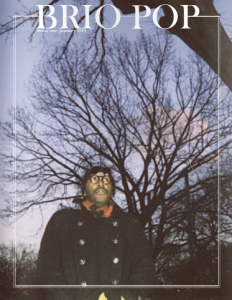 LINWOOD YOUNG GREW UP IN A TINY, RURAL TOWN in the heart of Maryland. He lived there with his mother and two brothers in a trailer connected to his grandmother's trailer next-door. Neighbors were scarce, but of trees and poisonous snakes there were plenty. For fun, he played in the woods and listened to rap and hip-hop music. In fact, that's pretty much all young Linwood listened to until the fateful day when the antennae on his radio snapped off.
Static engulfed the airwaves, obliterating transmission of every nearby station except one: a brand new Top 40's station that played everything but rap and hip-hop. Now, since this was the '90s, poor Linwood had little recourse other than the radio. There was no Pandora or Spotify, YouTube or Soundcloud. His only alternative was a tape (yes, a tape) from his older brother that featured tracks from Grammy nominees in 1996, so he gave it a listen. And, as he says, his "head cracked open."
For the first time in his young life, Linwood heard music the likes of which he'd never heard before. He listened to Hootie and The Blowfish and Joan Osborne, Alannis Morrisette and Seal. "It was like a gift from the heavens or something," he says. "I quickly fell in love with it."
Fast-forward some years and little Linwood (who now goes by the moniker LNWD, pronounced "Linwood") is all grown up, living in Bushwick and doing what he calls "the rapper thing." Last March, he released his first mixtape,"The Ballad of Super Niggs," a whimsical mash-up of rap and electronica, with farcical lyrics and a dance-inducing mood. The 4-tracks were produced by his friend, Brilliant, My Boy, and is at turns silly and serious, retro and novel.  It's the kind of music that catches you off guard—making your behind twitch and your ears perk up. It's weird and it's raw, which is exactly what LNWD wanted.
"I think people are too trained to hear radio-friendly music today," he says. His goal was to create something different—in both vibe and content. For example, "The Ballad of Super Niggs," which is the title of both the EP and one of its tracks, came from a story he dreamt up about a kid with Superman-like powers who never gets any recognition because of the simple fact that he is black. In the song, he raps about an Elysian planet where parents are "educated and they make six figures / No boys in the hood, shooting up, pulling triggers." LNWD doesn't shy from using the "n" word either, but instead elevates it to the level of a compliment with lines like, "He swears he can hear his parents say, 'Go, negro, go!' "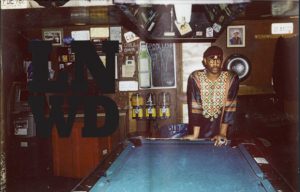 If LNWD reminds you of a certain someone in the music industry who also tends to push boundaries and try new things, then bravo—that was his intention. "[Kanye West] is constantly changing the game with his music," LNWD says. "I love how unfriendly ['Yeezus'] is and I also really enjoy the reactions it gets from people."
In addition to Kanye, LNWD credits Bjork, Missy Elliott, Michael Jackson, Tina Turner and Jay-Z as musical influences. And, like them, LNWD knows how to put on a show. To watch him perform live is to see his Bachelor's of Arts in musical theater and dance put to test. He might frolic or improvise lyrics, or swap his microphone for a megaphone like he did once at East River Bar. "I have a strong belief that I need to give the audience a show if they're going to come and see me," he says. "So after every show, I generally go out and ask the audience how it was and if they enjoyed themselves."
One of his most memorable performances to date was the "Black Friday" party he hosted last November at Radio Bushwick. In keeping with the spirit of the "holiday," the event was free, and, as per its title, featured only black performers. The show, LNWD says, was very high energy, with a packed floor and a super excited, relentlessly screaming crowd. "I don't remember very much of it," he admits, but he does recall the expression on one fan's face when he crouched low and reached out to them during a song. "It looked like they had just been picked to "Come on down!" on 'The Price' is right," he says.
LNWD's next project is a full album tentatively titled 'Berfday' and tentatively scheduled to be released by his birthday (or berfday, if you will) this June. The album will be darker and grittier than 'The Ballad of Super Niggs,' he says, a sort of compilation of different sounds that have piqued his creative interest in the last year, while at the same maintaining a "danceable intention." He also has plans to host a monthly party "or something to that effect" at Radio Bushwick, as well as a potential radio show.
In the meantime, LNWD will be spending time in the studio with his producer/buddy, Brilliant, My Boy, mixing beats and spitting verses for his upcoming album. "He's definitely helping me find my voice in hip-hop," he says. "We have a great chemistry."
Oh, and in case you were wondering, LNWD's favorite color is yellow.
To read the rest of Brio Pop Magazine click HERE.
To hear LNWD's mix tape, click HERE.