THROUGHOUT THE SEVENTIES AND EARLY EIGHTIES, Brad Elterman made a name for himself photographing candid, evocative photos of both counter-culture and mainstream icons. He photographed Joan Jett flipping the bird while backstage at the Whiskey and Robert Plant as he kicked a soccer ball in Encino. He shot The Ramones and The Sex Pistols, as well as Alice Cooper and David Bowie. He took photos of Madonna and Michael Jackson, and even Muhammad Ali and Brooke Shields.
Elterman was seemingly everywhere and always at the right time, until the mid-eighties when he simply stopped. The photography industry had changed, as had the music and cultural scene, and Elterman lost interest. After over two decades of keeping a low profile and focusing mainly on his business ventures, Elterman returned to photography in the early 2000s.
Though the people in his photographs have changed, his focus has not. Elterman's photos are just as raw and edgy as they were in the seventies and his passion for photographing musicians and avant-garde artists remains unchanged. In the last few years, he's snapped photos of everyone from Mac DeMarco, The 1975, Sky Ferreira, and Tyler The Creator to Jared Leto, Kris Kidd, Sandy Kim, and even Paris Hilton. With his upcoming show at Milk Studios in Chelsea later this month, we thought we'd take a moment to catch up with the prolific culture chronicler and shine a light on some of his most memorable photos from the past 30-something years.
Portable: Do you remember the first major photo (or photos) that you took back when you first started getting into photography in the mid-seventies?
Brad Elterman: I was a big fan of Bob Dylan and a huge fan of Alice Cooper. I think I went to a Dylan concert and I got a front row seat — that's a whole other story how I got this front row seat — and I took photos and that was my first published photo. And then I was insane about Alice Cooper — "School's Out," "Dead Babies," "I'm Eighteen." I remember when I turned eighteen, I played that song 8,000 times on the hi-fi and my parents were like, 'Enough already!' So then I found out that Alice was playing softball in this park in Hollywood. He was always there playing softball so I went there and I stared taking pictures of Alice and he was very friendly to me. We became friends and I met his manager and I remember him driving me around in his Rolls at one point.
P: A lot, if not most, of your photos were published in foreign magazines. As a teenager from the San Fernando Valley living in a time well before the Internet, how'd you make that happen?
Brad Elterman: When I was a teenager, I went to Europe to go to all these different magazines in France, Italy, Spain, Germany, Holland and whatnot so I could make connections to sell my pictures. Just me, just Brad taking photos. So my first trip was to London to visit a magazine chain there. So I get to my shitty hotel room and it was so hard to get the phone number of the magazine and then the switchboard operator had to connect the call and it took forever. I finally get them on the line and I say, 'Yeah um, my name's Brad and I'm here from Los Angeles and I'm a photographer. I brought some photos of the Bay City Rollers, Leif Garrett, KISS, Queen and Abba with me. Would you like to see them?' And they said come right over. So I went over there and I had to carry this fucking huge bag on the metro. I literally went right from checking into my hotel after my flight. So they're looking at all the transparencies and they said, 'Okay, we'll take this, this, this, this and, oh, David Cassidy.' David Cassidy was a huge deal then. I shot him at his house. And they said, 'I dunno, is 300 pounds okay?' It was like $600 or something and it paid for my plane ticket plus a lot of other shit. I said, 'Yeah absolutely.'
And then I somehow wormed my way into some of the other magazines in the building cuz once you're in there past security, there were other editors to see. I don't remember how I did it without appointments because it was so difficult then to go on the phone and make appointments, but I did it. And I sold more shit. Then I went to Amsterdam, to see two magazines there, called Muziek Express and Pop Foto. I showed up there with all my crap and I meet them and they take me into this conference room to go over all the photos. Dutch people smoke a lot and I was coughing. The whole room was full of smoke and I couldn't even see anything. They're talking in Dutch for what seemed like forever. They had this stack of photos and they said, 'We'd like to publish these photos. Is three thousand dollars okay to you?' I was like, 'Um, yah. That's ok.' And they said, 'Would you like us to pay you in cash? Because we can go to the bank for you. We can send Herman over here to the bank.' I couldn't believe it. It's a true story and I swear to you, it was unbelievable. I remember getting the cash and then before I left they said, (and this was the best part of the trip), 'Would you like to be our Los Angeles correspondent and work for us from LA and send us pictures? We'll put your name on the masthead so it'll help you get more entree and so on.'
So I called my parents and I was like, 'You're not going to believe this! I just got paid $3,000 and I've got it in my pocket here!' And my dad's like, 'Put it in a safe. You're gonna get robbed!'
P: Did you ever worry about the consequences of taking photos of celebrities that you saw out and about in public? Or angry PR people lashing out at you? Say, for instance, with the Ringo Starr/ John Lennon photo you took outside of the Roxy one night?
Brad Elterman: My least worry was could there be a backlash with PR people. They thought it was hysterical. They all loved it. Everybody saw it and everybody was talking about it. They thought, 'What a precocious kid!' and not one person threatened me or banned me, they just thought, 'This was fucking genius of you to do this. Why would you do this?' And I said, 'Well, why not?'
P: Do you consider yourself a paparazzo?
Brad Elterman: A lot of people have said, 'Oh, you were paparazzi.' But it's absolutely not true. I wasn't. It's just, I wanted to hang out with Tom Waits and Joey Ramone and Tommy was a friend of mine. Does that make me a paparazzi? I don't think so. I was just a kid experiencing pop culture.
P: Did you ever consider working for an agency instead of going solo?
Brad Elterman: The big agencies were all based in Paris, but what I was doing was lowbrow. They would look down at this kind of stuff. They were covering news and they were covering Richard Nixon and they were covering wars in like Beirut or something. This was not photojournalism. But this stuff paid a shit load more than a picture of somebody throwing a rock in the Middle East.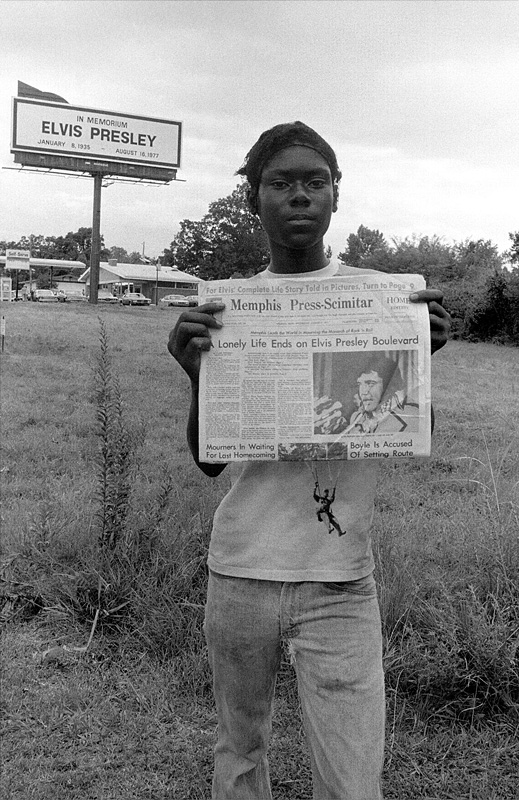 P: When you first started taking photos, you were pretty darn young. How do you think your age back then helped you, in terms of meeting the right people and getting permission to take their photographs, and how do you think your age helps you now?
Brad Elterman: I had a lot of enthusiasm, which I never really lost, as you can tell. I was sort of an anomaly because I was this very young kid and I was an American, or somebody from LA, going to all these offices all over Europe.
It helped back then and it's helping now because I'm older. I'm the oldest person in the room, or one of the oldest. And I'm a bit of an eccentric and I've got good provenance and history. So young band members are like, 'Come hang out with us please. Tell us stories.'
P: So how'd you make money as a photographer back in the seventies and eighties? 
Brad Elterman: There used to be a lot of money in syndication. That's how I bought my first car and put the down payment on my house. I would sell the same picture to different magazines in all these countries— France, Italy, Spain, and Germany. Because somebody who reads a magazine in Italy is not going to pick up a French magazine, you can sell a big exclusive like, "John Travolta kisses Olivia Newton John," and you can run that in all these different countries. Why just get one check from some shitty magazine like Rolling Stone and they're gonna send you an insulting check for $25 when you can sell it to Paris Match in France for a thousand French francs or two thousand Deutsche marks?
All those magazines are photo driven. They would get the photos first and then call the reporter and say do a story on it. So I set up this whole syndication business. I bought my first car from Japanese sales. It was insane.
P: I know that you've published a few books of your photography, but in the eighties you also published a book called Shoot The Stars: How To Become A Celebrity Photographer. Unfortunately, I wasn't able to get my hands on one, so can you tell me a bit about it and how the idea for it came about?
Brad Elterman: Oh god, you're the first person to ask me about that! The book was not so much about how to become a paparazzi, though there was a chapter in there about dealing with the paparazzi. There's a whole thing about dealing with publicists in it, and I said, very early on, you have to decide if you're going to work with the talent or the publicist or if you want to go for the paparazzi style picture. It also told you where to sell your photos and it had a list of all these international magazines. Photographers were like, 'You bastard! You're telling everybody how to do this and so on. But I didn't give a shit. It was fun. I like making books and things and putting all the pictures together. It actually landed me on Oprah — she interviewed me. You can still get it on eBay for about thirty cents. But that'll be in my museum too.
P: When did you first notice that the photography industry was changing?
Brad Elterman: Going into the eighties, things just started to tighten up because the PR people realized that there was money involved here and I don't think they liked that. So they started trying to make deals and everybody wanted a percentage. Then the whole thing started with celebrities selling their baby pictures and wedding photos, which I find very vulgar, and it just went fucking nuts.
P: I noticed you stopped taking photographs for almost two decades. You have no photos from the late eighties, the entirety of the nineties, and the early years of the millennium. Why'd you go on hiatus?
Brad Elterman: It was boring. You know what it was? It was heavy metal. It was Pamela Anderson on Baywatch. I mean, did I miss a heck of a lot? I don't think so.
P: A lot of your recent work is published quite regularly in Purple Diary. How did that relationship come about?
Brad Elterman: When I did the big coffee table book, I had an extra set of proofs. It was in a big fucking tube — rolled up, beautiful press proofs. I'm always thinking in advance about PR, like, 'Six months before the book comes out, who would like to excerpt this? Should I send it to Vogue in New York? Should I send it to Rolling Stone? Should I send it to Popular Photography?' And I said, 'No, I'm going to send it to this really interesting cat in Paris at Purple Magazine.' And I put it in a tube and I paid DHL to ship it out to them. I didn't know who these people were. I sent it to their address and then weeks and weeks go by and I go, 'Well, that was another stupid thing I did. I just blew a hundred dollars.' And then like two days later, I get this phone call or email or whatever saying, 'That's some really cool shit. Are you sure we can print this?' And I said, 'Yeah, it's fine.' Then they put it in the issue and I got invited to the party.
And it's great. It's a great outlet for my photos. I wait for Purple to publish things before I put it on my tumblr. It's a great opportunity and it's something cool and exciting.
P: Do you still consider yourself a photographer of the counter-culture? 
Brad Elterman: I think so because I'm not taking photos of anyone who's playing at the Staples Center. It's just little clubs and venues and so on. So I suppose yeah. That's kind of my niche.
P: I'm impressed with how thoroughly you've adapted to our social media-obsessed times. Not only do you have a Twitter and Facebook, but you have a website, a Tumblr, and an Instagram account, too. Are you a really big fan of social media or did you feel pressure to adapt to the times?
Brad Elterman: I do it because I love the publishing aspect of it. I always wanted to be a little Associated Press, a little wire service. It was so difficult for me to move a picture from A to B and I wanted to do that in the worst way — to get my pictures to the Netherlands, to get them to Germany. But it was so laborious and so time consuming. Now, it's so easy. When I put that stuff of Matt Healy from The 1975 on Instagram and Tumblr, I had like thousands of notes for him. And then they called me from London and they said, 'We love these pictures. Do you think we could put them on our Facebook?' Yeah, sure, whatever. Then they called me back and they're like, 'You're not gonna fucking believe it.' And I said, 'No, what?' And they said, 'We had 300,000 likes of the photos.' That's really neat.
P: What brought you out of your 20-something year photography hiatus? 
Brad Elterman: [In the early 2000s] you couldn't reference anything on the Internet about me. First of all, the Internet was just starting up and secondly, I'd never put any photos up. My neighbor was this TV producer and I told him about all my photos in storage and he said I should really take them out and put them online. I was like 'Yeah, ok,' and he said, 'No. You should really do it.' So he kind of got me to get the collection together, to go to storage, to find my stuff. A lot of it is still missing because when I would send original transparencies to these magazines, I never got them back. But I'm slowly getting some of this stuff back. Thank god I've got a good bulk of it. So then I did a show in 2005 and had my friend design a website.
P: Sorry to bring this up, but how do you make money these days? 
Brad Elterman: It is hard to monetize all this. That's what all the young people say. 'Brad, how do I make money with my camera? How do I do all this stuff?' It's very hard. I'm still planting seeds and I'm learning stuff all the time. It's not like I can go to Wells Fargo and say, 'Listen, I just had 300,000 likes on this photo, do I have to pay my mortgage?'  It's funny 'cos back in the day, when somebody would say, 'We really like your photos, but we don't have any money to pay you. Though we'll give you photo credit,' I used to say something like, 'Oh, gee, well, I'll just show my landlord my photo credit.'
But I think for a photographer today, you have to be a global brand. You get hired not just because you're a photographer, but you need a style. Like at the Museum of Modern Art you look at the photos on the wall and you can say, 'Oh, well, that's Helen Levitt, that's Walker Evans, that's Annie or Weegee, there's Terry, whoever.' So you can tell the style and that's very important. You need to be like a brand now. I mean, designers want to hire brands.
P: How do you stay up-to-date with trends, new bands, etc?
Brad Elterman: A lot of times Tumblr kids contact me and they say, 'I'm in town can you meet for a coffee?' I'll try the best I can to meet them, if I can see they're serious and this is what they want to do and their photos are good. I'll tell them the story about how I did it and what I'm doing, but then I want cross regurgitation. I want to hear from them. 'What do you think about my pictures? Who should I shoot? What's hot now? What's going on now?' So it's real give and take.
P: If you had to shoot a mainstream celebrity — even though I know that's not your thing — whom would you choose?
Brad Elterman: Lindsay would be incredible to shoot. She's not that young anymore but I think the camera adores her. I love the fact that she's got controversy. That's exciting. She would be awesome.
P: Do you still take photos of musicians, celebrities, etc. if you spot them in public or get tips that they're, say, playing soccer at a nearby park?
Brad Elterman: No, I wouldn't do it. Wouldn't do it. I just find it's too invasive. If I was at a party or something, I'd go over and introduce myself and ask if could take a picture. But no, I wouldn't do it. I saw Lindsay at an airport once and I could've done it, but no. It's too creepy now. It's all ruined by modern day paparazzi. It's just creepy.
P: How has the paparazzi or paparazzi culture changed since the eighties?
Brad Elterman: They're not photographers. They're not there for the fun or the art. They hate their jobs. A lot of them, so I'm told, allegedly come from gang backgrounds, illegal aliens, ex burger flippers, etc.  It's a gnarly crowd. I don't think any of them are doing it out of a passion for photography. I don't think any of them know anything about f-stops and shutter speeds. It's creepy and those pictures are a dime a dozen. The market is terrible now. None of them are making any money.  The magazine business is a disaster.
P: Why have you chosen to remain in Los Angeles all these years?
Brad Elterman: Well, I didn't really know where else to go. I wanted to move to Portland for a long time and I wanted to go to San Diego. But thank god I didn't because I would have been bored to tears in San Diego. I think I was just intrigued by the weather. But I wanted to leave because I wasn't really being creative working here. This is before I started taking photos again and I was kind of at this stage where I was like well what do I do now? What do I do with the rest of my life? I had a photo agency I sold to Getty Images — it wasn't enough to retire on, but it did give me some time to have a little fun, some time to breath. So I thought about Portland and San Diego but it would have been a big mistake because now I'm prolific and it's all happening with all of my darling young friends and so on. It's like a renaissance. I'm living all this all over again. I'm having the time of my life. It's almost as much fun as when I was shooting Joan. Well its a different kind of fun 'cos I was the youngest person in the room then and now I'm the oldest person, well kind of the oldest, almost.
P: What's the most memorable photo you've shot in the last few years?
Brad Elterman: The most memorable was when I photographed a band called The 1975. They're a cool band. We did the shoot and when I was done with the shoot I was like, 'Oh, by the way, here's a copy of my book.' And he was like, 'What? This is your book? You took all these photos'?  The road manager was saying, 'Come on, we got to go,' and he's like, 'No, no. I want to look at this.' So it's like when you have a book, these young bands just go, 'Holy shit. This is sick!' They had to give me the definition of 'sick.' I didn't know if 'sick' meant bad or did it mean good? And they're like, 'No, it means good.'
P: It seems like everything is coming full-circle for you, Brad. Almost as if it's all happening again. Do you agree?
Brad Elterman: I think this is all still in its infant stages. I'll look back on it in 20 years time and go, 'Fuck, man. 2012, '13 and '14 were so exciting and we were groundbreakers. Things were going on.' I can't wait to get out of bed in the morning — it's so exciting all these different things. It's a different kind of wowness now.
P: What else do you have coming up? You mentioned that you're working on a short film?
Brad Elterman: The movie I'm working on now, my short film, is about me as a teenager selling photos to Japanese magazines. It's called Music Life and that was the name of the magazine. Anyhow, my friend Juju's going to produce it and I'm going to direct it. I wrote it already. And we're gonna have a couple of interesting people who play cameos in it. I'm speaking to some fashion brands now in terms of financing it. I think this film can be done with 15 grand, I'm sure. As soon as we get money, we'll just do it.
You can see a ton of Brad's photos, and read about his memories of taking them, here.