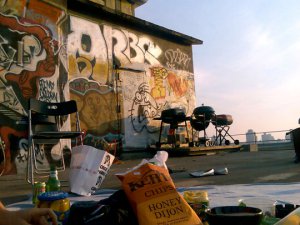 Is New York City becoming more suburban? Or is that just what The New York Times wants you to think?
The Times was chock full of 'burb-centric articles this past Thursday, but the two that stood out the most were Jesse McKinley's swan song to urban Manhattan and Bob Tedeschi's 1,272-word tale about resurfacing his wooden deck.
In "Visiting the Suburbs Without the Drive," McKinley bemoans the current state of New York City, hinting at a (frightening) future where hatchback Chevies and flipping burger on the patio will become the norm.
The 'burbs seem to be everywhere, from miniature golf in the Village to batting cages on the Upper West Side. There's table tennis off Park Avenue South, an Applebee's in Harlem and highway-style hotels like the Comfort Inn on the Lower East Side. Multiplexes are more common than art houses, and don't even try to avoid trivia nights. If not for all the big buildings and honking, you could easily mistake Manhattan for Mahwah on some nights.
Of course, there are logical explanations for this, he explains, citing the city's demographics (immigrants from less urbane environments), the recent trend of kitsch (think dodge ball, paintball, and the like), and the Big Kahuna, nostalgia. "Maybe the suburban craze is just a happy case of nostalgia for those da