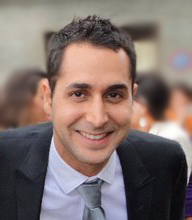 Designing apps is a bit like pleasing two siblings: either you create the iPhone version first and risk pissing off Android users, or vice versa.
Fortunately for Pixable, that is no longer the case. The previously iPhone-only company announced at noon today that their photo-sorting app will be available in Android form, too.
Inaki Berenguer, co-founder of the four-year-old social media company, said that creating an Android app was always on his agenda, but that the company had just never gotten around to it. "The reality is that it was in the road map but we didn't feel any urgency to build it right now," Mr. Berenguer told Betabeat.
So, when Juan Carlos Viota, a 33-year-old award-winning Android app developer (in 2009 he won the Global Android Developer Challenger for his Sweet Dreams app), contacted Mr. Berenguer about designing an Android version of Pixable, it was luck, indeed.
"He was like, 'Might you give me access to your back-end to develop an Android application by myself?' " Mr. Berenguer said. "And, well, why not?"
Permission granted, Mr. Viota then went to work on the new app, churning out a finished product in the freakishly short time span of just three weeks, which, apparently, was no big deal for Mr. Viota. "I've always been a fan of Pixable," he wrote in email to Betabeat. "Having created many Android applications in the past…I thought it would be an interesting project for myself."
Mr. Viota's initial plan was to sell the app through his company Inizziativa. But once Mr. Berenguer saw the finished product, he simply had to make it an official Pixable application. "He build an amazing Android application," Mr. Berenguer said. "And we liked it so much that we decided to buy his company, the rights to the application, and to bring him in to Pixable."
"I'm joining a great company, with a great team, and a great vision," Mr. Viota wrote, adding that he is "extremely excited" about his future working at Pixable.
The Android app was released last week, but has since been "fine-tuned," Mr. Berenguer said, in preparation for its official public release this afternoon. "We feel really comfortable with the way it is," he said.
And, now that the Android app is in tip-top shape, Pixable is confident that it will be a success. "Our idea is that on the iPhone we have two million [users] and Android should get to there, right?" Mr. Berenguer said. And since it's available at the reasonable price of $0.00, Betabeat sees no reason why this shouldn't happen.