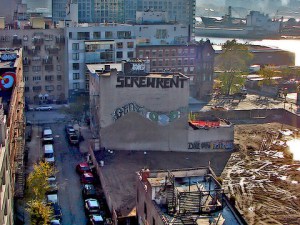 Williamsburg residents are pissed, enraged, and furious—and not just because the Foster the People Summerstage show is sold out. No, this is a problem with a park on this side of the river, namely one the city has refused to build.
"I feel like the city has let us down," Laura Treciokas, co-chairwoman of the Friends of Bushwick Inlet Park told DNAonfo. She likes to take her one-year-old child to the park, she said, adding that they are "avid users of park space." But, because the city has still not rezoned a 30 acre open waterfront space, which they pledged to turn it into a park in 2005, Ms. Treciokas complains that "what exists is very crowded" and going to the park is now "tough."
We wish we could say Ms. Treciokas is joking, that taking care of a newborn has so dominated her time that she has forgotten how to tell jokes and has now developed a warped sense of humor. But this is real. Ms. Treciokas is pissed. And hell hath no fury like a mother scorned.
On June 14, Ms. Treciokas and her equally ticked-off cronies—state Senator Daniel Squadron and Councilman Stephen Levin have joined her ranks—plan to rally on the steps of City Hall where a hearing on the status of the open-space project is scheduled to take place.
"The rezoning brought new residents, which we welcome," Ms. Treciokas said, "but we also need things like parks and open spaces to help cope with that."
And she has a point: It's hard to stay zen when you can't find a spot to unfurl your yoga mat.