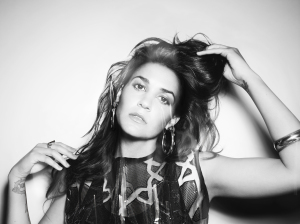 It's been a tumultuous three years for singer-songwriter Kat Dahlia.
In 2012, the fledgling recording artist and former waitress signed a recording contract with Epic Records. A year later, she released her first single, the piano-laced hit "Gangsta," which ranked 47th on Billboard's Hop R&B Songs of 2013 list and has garnered more than 15 million views on YouTube so far.
Two summers ago, Dahlia got pulled over for a DUI, but that hardly affected her career. In 2014, Complex ranked her debut album as the year's 46th most anticipated album while she made plans for her first national tour.
But then things went south. She couldn't hit her notes. Something was wrong with her voice. She had a cyst on her vocal chord, it turned out, and her singing career, she learned, was in jeopardy. Her tour was cancelled. Her album was put on hold. For 10 days straight, she couldn't speak a word. She stopped socializing and became a hermit. She even changed her phone number. It took six months for her to fully recover, but by the end of 2014, she was back in the studio. She wrote some new songs. She went on tour. And most importantly, she finally finished her album.
My Garden has been a longtime coming and it doesn't disappoint. The 11-track album is a heartfelt portrayal of Dahlia in all her manifestations and moods. Like her debut single, "Gangsta," it's raw and it's gritty with a smattering of ruthless honesty and daring innuendo. For a first album, it's an impressive feat that stands strongly on its own. Dahlia wrote or co-wrote all but one of the songs on the album, which originally consisted of over 100 songs that were ultimately culled down to 11.
The songs themselves navigate a range of emotions and experiences from the young singer's life. Many of the songs, she said, were influenced by an abusive relationship from her past. She sings of falling in love and falling out of love; about anger and unity. Her ballads are introspective and candid, almost to the point of sounding confessional, but therein lies Dahlia's charm. She doesn't sugarcoat things or dull her emotions. She tells it how it is, through both her words and vocal intonations. Her throaty voice and storytelling tendencies have garnered comparisons to Joni Mitchell, as well as Lauryn Hill, but one could argue that Dahlia is not that easy to categorize.
Growing up, Dahlia listened to a mélange of different artists and genres. She was a fan of reggae and pop, just as much as she was a fan of rap and soul. "When I was younger, I would sit in my room for hours alone and play my CD's," she said. "I'd play a Led Zeppelin tape, then I'd play Jackson Five. I'd play Frank Sinatra and Elvis, then A Tribe Called Quest, and then B.B. King."
Like her musical tastes of yore, Dahlia's sound is all over the map. She sings catchy love ballads, but she's not really a pop singer. She raps, but only in two songs. She's got a thing for slow melodies and emotive lyrics, but she's not solely an R&B/soul artist, either.
And yet, despite the smorgasbord of genres in the album–there's rap, trap, pop, soul, jazz, R&B, salsa, and more–the songs fit together. Dahlia is telling us a story about her life. She's inviting us into her world, or garden, if you will, and offering an up-close and personal view of who she is at her core. Once you realize this, the mercurial nature of the album–the multitude of genres and styles, the tempo changes, the mood shifts–starts to make sense. My Garden is an evolutionary project, one that took three years to create. During that time, Dahlia lived and learned, matured and changed, so it makes sense that her album would, as well, and the finished product is a reflection of that.
My Garden is available to stream or purchase on iTunes