When the Long Beach quintet, The Fling, took a hiatus in 2013, front man Dustin Lovelis kept working. He penned songs and produced demos. In time, he met producer and bassist for Everest, Elijah Thomson, and they began working on a record. Composer and session man, Frank Lenz, was added to the mix and then a session at Elliott Smith's former home, New Monkey Studios, was booked. Two days later, an album was born.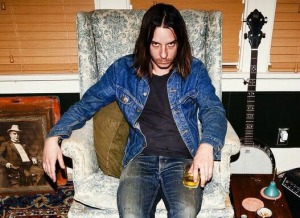 On a recent Saturday night, Lovelis' premiered the project, Dimensions, at the downtown Long Beach event space, Howl. Over a hundred people arrived at the BYOB event to hear the vintage-sounding guitarsmith's debut solo album of raw and honest pop ballads. "This is my first effort to do something on my own," says Lovelis. "And I think it's the most me out of anything I've ever released.
The 11-track album is largely autobiographical and draws from material—emotions, memories, experiences— in Lovelis' past. "I think it kind of sums up who I am as a person at different periods of time," he says. Lovelis started writing the songs six months after The Fling broke up, a time in his life that coincided with other negative events, like losing his job, his girlfriend and dog, all in the same week.
"I had a lot of things I wanted to get off my chest," he says. "I had been talking about some of them with friends and I was starting to get sick of hearing myself talk about it." Turning these life experiences into songs, he realized, would not only be therapeutic, but it would help him document a particular time in my life. "I could use the music as a way to get the emotions and the feelings out," he said. "To me, that made more sense than just having a conversation with somebody."
Lovelis grew up in a musical household (his dad was a musician) and started writing songs and playing instruments in his early teens. He flitted around from band to band, trying out different musical styles–punk, emo–as he solidified his sound. "In high school, it was trial and error," he says. "I didn't really know what I liked or wanted to sound like. I was just trying stuff out."
Musically, he was influenced by '90 grunge rock bands like Nirvana and Lemon Heads, as well as rock and roll bands from the '60s and '70s. "I've always been a fan of rock and roll," he said. "I think it can be disguised in a bunch of different ways." Dimensions, he said, pulls from these influences by creating a sound that is uniquely rooted in the rock and roll of yore, just with a more introspective streak and an overall cathartic objective.
Now that he's turned his personal life into song, his next project, he said, will be less about him and more about the world at-large. "I've already written about myself and that was good for me," he says, "but it would be nice to think bigger and get out of my own head…. There's a lot of shit going on in the world and I would like to find a way to voice that somehow."