It's Thanksgiving Day and singer Jennie Vee could care less.
"I'm the most anti-holiday person ever," says the 32-year-old from Canada, who headlines Oakland's Stork Club on Friday, Dec. 4. "Ever since I was a kid, I've not really enjoyed holidays. I can't wait for them to be over."
Vee's blasé attitude is right in line with the punk rock ethos that has always guided both her life and music. Though she grew up in a "strict Catholic household," Vee became a Goth, dyed her hair "every color of the rainbow," and went vegetarian — and later, vegan — at a young age. She taught herself how to play guitar simply by listening to albums from Hole, The Cure, and Jane's Addiction, and to this day, cannot read music. As a teenager, she dropped out of high school and moved to England because that's where "all [her] favorite bands were from." When she returned to Canada in her late teens, she formed a rock band called Tuuli and recorded a full-length album and EP. Over the next few years, through her own hustling and hard work, she wrote songs for a Comedy Central series and got a handful of tracks used on a Canadian cartoon show, as well as the hit teen drama television series, Degrassi: The Next Generation.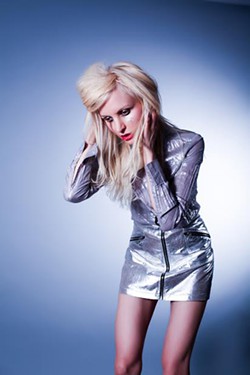 And then she quit music entirely. "It was like a social experiment on myself," says Vee, who left music to work in the corporate and fashion worlds. But the experiment failed, and she quickly sunk into "a very deep depression." Without music in her life, Vee became despondent and melancholy. "I hit an all-time low," she says. "What's that old saying: 'Forcing a square peg into a round hole?' That's what it was."
Vee eventually left her day job and returned to making music in 2013, and today, uses the angst and ennui she experienced as fodder for her lyrics. "It gives me perspective on the low point," she says. "And that's what I pull from when I'm writing: The feeling of being so alone, so isolated, so disappointed in yourself."
She dropped her first EP on Bandcamp, the aptly titled Die Alone, in October 2013, followed by her first full-length album, Spying, in October of this year. Though she has a knack for producing punky dream-pop tracks, there's a lingering darkness to her music that Vee believes helps make it more relatable. "I'm not just writing about heartbreaks and romantic relationships," she says. "A lot of my subject matter is about responsibility and accountability and your relationship with yourself."
In May, Vee took a hiatus from songwriting to be Courtney Love's bassist while she was on tour with Lana Del Rey. "It was really special to me," says Vee, who used to dream of being a member of Hole. The two were introduced through mutual friends and started hanging out when Love was in New York City for the playKansas City Choir Boy. At their very first hangout, the pair practiced Buddhist chanting, an experience that Vee says was "very powerful and completely changed my life." When the tour rolled along, adding Vee to the band's roster was a no-brainer. "The timing was right," Vee says, "and it was just very natural that she would ask me to do it with her."