San Francisco's Little Stars Trio is hard-working, insanely talented, and still in grade school.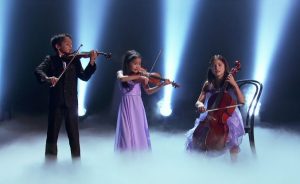 On weekend mornings, while most kids are sleeping in or watching cartoons, the Breshears siblings are often busy performing impeccable renditions of classical music in a downtown San Francisco subway station.
Collectively known as the Little Stars Trio, they usually arrive at BART (Bay Area Rapid Transit) around 9 a.m., ferried there by their father, Dustin, who is also their manager. In their monotone frippery and finery, the Breshears — Dustin Jr., 11; Starla, 10; and Valery, 9 — stick out like sore thumbs in contrast with their grimy, bird-shit-stained environment.
On a recent Saturday, the trio played to a crowd of two dozen people, delineating a "stage" by creating a wall with their instrument cases. When the final notes of Mozart's "Eine Kleine Nachtmusik" peeled through the station, the crowd erupted into applause. A man took a selfie with the kids in the background, and a woman muttered to herself "Aw, que bonitos!" before stuffing a dollar bill into one of their open violin cases.
The kids themselves are total professionals. Smiles are plastered on their faces throughout the entirety of their performances, and they choose their set lists without aid from their father, selecting songs based on what they feel the audience wants to hear. In fact, you can't even tell that Dustin is there because he likes to hang among the crowd and give the kids their space and autonomy.
"I don't want to act like I'm trying to take credit for anything," he told OK Whatever. "I want them to get the spotlight."
For the last seven years, Dustin and his wife Julie have made sure to give their children every musical opportunity they can. All three learned their instruments when they were young — starting at the ages of 2, 3, and 4 — and spent the bulk of their childhoods if not on stage, then in the family's car, being ferried to and from music lessons, some of which were more than three hours away. The Breshears have since moved from Chico, a woodsy city in the Sierra Nevada foothills, to the Bay Area so that the kids can attend the San Francisco Conservatory of Music's pre-college program and not spend half their day cooped up in a car.
Not that the members of the Little Stars Trio have any issues with traveling. Over the last few years, they've performed in such far-flung places as England, Mexico, and Argentina, taking home numerous awards and first place prizes as soloists. They've already recorded and released an album of classical hits from the likes of Niccolo Paganini and Joseph Haydn, and in March of this year, they appeared on the Steve Harvey-hosted NBC program, Little Big Shots, where they performed their own arrangement of the theme song from E.T.
Given their already lengthy list of achievements, it's no surprise that the children are precocious. Performing at such young ages has helped them mature beyond their years, and they possess a certain self-awareness that most kids their age lack. They each speak two languages, and even their culinary preferences are haught. They love escargot and caterpillar sushi rolls, and claim never to listen to the radio. They do, however, like some normal kid things, like Harry Potter and American Girl Dolls, but they won't readily admit to this. To them, music is life, and everything else comes second.
After one of their subway station performances, OK Whatever interviewed the three siblings, peppering them with questions about their morning routines, future goals, and overall feelings about themselves. The kids definitely started getting annoyed after a while — and only one of them consistently answered our questions — but hey, it's not everyday you get to pick the minds of miniature geniuses.
So what time did you leave the house today?
Starla: We woke up at 6:30 a.m. and then we drove here at 7 a.m.
You guys said that on the drive to the subway station, you don't watch TV in the car. Why is that?
Starla: Because we have to save energy.
Valery: And if you watch TV, you're going to be brain-dead. But on the way back, we're all done, so we can watch it.
That's smart. What are other things you do to prepare for a performance?
S: We go to bed early the night before. If we practice good, we watch a show with the whole family, and then we go to bed usually not later than 8:30 p.m.
Do you eat any special breakfast before performing?
S: We don't really have a special breakfast. We usually just have cereal or oatmeal.
V: Or pancakes.
Do you take any vitamins?
Dustin: We take vitamin C. It's like a tablet.
S: We don't really like it because you have to chew it. We don't like that. We like the gummy ones.
Do you have to do any stretches for your hands or body before playing your instruments?
All three: No.
V: We do do warm-ups on our instruments though. And in BART, we need to tune.
How old were you when you started playing your instruments?
S: I was 3 when I started playing the cello.
V: I was 2 when I started to play the violin.
D: And I was 4 when I started playing the violin.
Wow, that's young. Why did you guys start playing instruments? Was it your idea or your parents'?
D: Well, me and Starla both decided to because we'd been going to music concerts ever since we were babies. And then Valery also wanted to play because of us.
Do you like performing in subway stations?
All three: Yeah.
What do you like about it?
D: Well, I think it's very good for practice.
What don't you like about it?
S: One of the bad things is…You know how we get a lot of money? Well people steal money out of our case. They take the big bills, because they stick out.
You notice that when you're playing?
S: Yeah.
And you can't do anything about them taking the money, right, because you're playing music?
S: Yeah, we just let them.
D: And there's dangerous people, too.
What do you do with the money you make?
D: We use it for our lessons.
Have you ever had to deal with competing musicians in the subway?
S: Actually, what we do with that is we pay them $20 so we can have their spot. Or we make sure we get there earlier.
So let's talk about classical music. You guys like it?
All three: Yes.
D: We don't really listen to anything else.
Do you have favorite composers?
D: I like Mozart and Bach.
S: I like a lot of composers but I don't like contemporary — unless it makes sense. Some of it is a little weird and you can't understand it sometimes.
If you had to play a second instrument what would it be?
S: The thing you need to think about when you get another instrument is that you aren't going to have enough time. You're not going to be able to practice as much as you need to.
D: I don't really want to start another instrument. It's better to be really good at one.
Do you want to be musicians when you grow up?
All three: Yeah.
Do you have any specific ensembles you want to play for?
S: We want to be in the San Francisco Youth Symphony.
Do you guys consider yourself friends?
S: Yes, but maybe not when we're practicing.
Do you ever compete with each other?
D: Yeah.
Dad: They do a lot of the same competitions and sometimes one will beat the other. It goes back and forth. They've had ties before, too.
Do you have any other brothers or sisters? Do they play instruments as well?
V: Actually, we have three more siblings. One who's playing the violin. He's 5.
D: Our younger sister is 2, and she's playing the cello. And then there's a newborn. Eventually she's going to play the violin.
Why is your 5-year-old brother not here with you guys?
S: He's not as high of a level as all of us, but eventually he will be.
What's the best part about playing music?
D: Umm, having fun.
You guys are so cool and impressive. Do you ever think about that?
D: No.
S: No.
V: Haha, no.
Well, how about this: Do you feel like normal kids or do you feel a bit special and different?
D: Umm, not really special, just different.
S: Well, like our teacher says, we don't let the comments get too close to us. But, well, I do feel like I can do something really amazing. But I don't let the comments get too close to me.
V: I feel normal. I don't feel like I'm proud of myself. I'm just good at this.