Because you can, thanks to this Californian art project on wheels.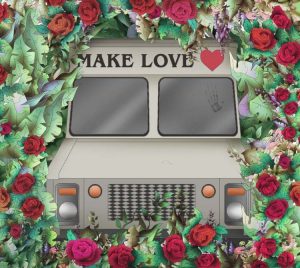 Back in my younger, wilder days, when I still lived with my parents, hooking up was a challenge. Since I couldn't invite members of the opposite sex over to my house, I had to get creative, which meant doing it in my car. Anyone who has ever tried this knows that it's not only cramped and squishy, but risky, too. Finding a place where you can park and bone is no easy task, and there's always the chance that you'll get caught. Fortunately, the worst that ever happened to me was when a resident of the Hollywood Hills neighborhood I was parked in knocked on my window and sternly told me and my partner to "leave and never come back." If only there had been a Hook-Up Truck for us to use back then!
Introduced in the San Francisco Bay Area in 2014, the Hook-Up Truck is the brainchild of Spy Emerson, a red-haired conceptual artist keen on making sex-on-the-go a possibility for all. Billed as "a modern dating solution for safe, sexual adventuring," the Hook-Up Truck can be found parked at local, "non-aggressive" events, like Oakland's First Fridays and St. Stupid's Day in San Francisco, or it can booked for private parties. Lately, it's been parked in front of the Albany-based dive bar, the Ivy Room, every second and fourth Monday, where use of the hallowed one-room space costs $50 for 30 minutes.
But it's not just money that will get you through the door. Emerson also considers people's personalities when deciding who to let into the Truck.
"If somebody comes up to me, entitled and privileged, with $100 bucks in their hand, I'm not going to invite them into my space," she told OK Whatever. "If somebody comes up with nothing more than a handful of daisies and says, 'Look, I'd really like to bang my girlfriend in here and I don't have a donation,' I'm going to give it to them. That's the vibe I'm working on."
The vehicle itself is a decommissioned 1987 U.S. Postal Service mail carrier, painted entirely white except for a heart on its side and the phrase "Make Love" emblazoned on its front. But though it's obvious what the Truck is used for, its inner room — where the "magic" happens — is a mystery to all but those who have actually paid to rent it out. News anchors have tried to cajole Emerson into giving them a peak, but she's stayed firm on her policy of showing it to "participants only." She wouldn't even give this reporter a glimpse of the Truck's innards.
"It's for people playing the game," she said. "I'm not putting this on YouTube, like, trying to get clicks. This is a fun, sweet, total surprise, and no one has ever done anything like this before. So that's why I have that rule. I want it to be unique for the people that actually partake."
But there are a few things we do know about the sex suite. Every little detail has been thought out, from the hooks on the walls for hanging your clothing to the sexy, red mood lighting. In addition to condoms and lubricant, Emerson provides hand sanitizer and tissues. There are even temperature controls for super hot or cold days. Outside of your own home, Emerson can't think of a better place to bone on-the-go.
"With apps like Tinder and Grindr, people resort to having sex in the street, in their cars, between their cars, in bathrooms, in alleys — putting themselves at risk legally and physically," she told the Oakland alt-weekly, East Bay Express. "The Truck is far more hygienic than a BART restroom, or an alleyway, or your average hotel room."
It's also a bit unexpected, at least when it comes to the boning equipment options. There's no mattress or pillow scattered floor + shag rug combo for people to do it on. It's not as comfy — and potentially germy — as that. Though OK Whatever wasn't allowed to see it, there is actually a custom metal and vinyl bench in the Truck, replete with a mirror and a bar to hold onto.
In keeping with the Truck's naughty vibe, there is also a hooked-up camera that you can use to take photos or videos of yourself, as well as complimentary ninja masks for those who want to obscure their identities.
It's not just couples (and occasionally threesomes and moresomes) using the Truck. So long as you're deemed "cool" by Emerson, she is open to letting solo people use the space to pleasure themselves. "If you come and you charm me about your masturbation fantasy, I'm probably going to say yes," she said. "The thing with the Truck is it appeals to everyone. It's like caveman shit, dude."
But though the Hook-Up Truck has fans — two different production companies wanted to do reality TV shows about Emerson — it also has haters. It's been turned away from several events and festivals, and over the years, it has hopped from San Francisco to Oakland and now to Albany in hopes of finding a community that will be more welcoming and supportive of what the Truck is offering. And even though it's technically legal, Emerson has made efforts to ingratiate herself with the police by visiting the local station and filling them in about her art project.
"The cops, they know me," she said. "I went into their cop shop and introduced myself because I wanted them to know who I was with this thing, so that they didn't create a scenario."
Since February, Emerson has added another element to her art-project-on-wheels: a one-hour show. Held inside of a neon-fronted dive bar called the Ivy Room, it's like a whimsical, sexually charged variety show with guest appearances, musical acts, commercial interruptions, and a lot of cussing. In it, Emerson masquerades as a "pagan witch" hoping to heal the world through "sex magic." Her goal with the show is to titillate the audience to such a point that they're so turned-on, they'll want to rent the Truck, which is conveniently parked outside.
On a recent Monday, close to 20 people turned up for the show, which included the use of not one, but two, homemade sex dolls, a game of Spin the Bottle, a mock wedding, and the performance of a salacious song called "Sit On My Lap, Sasquatch." Emerson, who wore rainbow socks and a googly eye pasted between her eyebrows, made the crowd hoot and howl with laughter as she demonstrated various Tibetan sex poses and reminded people to squeeze their kegels and "keep it tight."
By the show's end, no "sex magic" had yet been made. Nobody, it seemed, wanted to rent the Hook-Up Truck.
Emerson was not surprised. Having the Truck around doesn't create "the fuck fest that one might imagine," she said. Even at San Francisco's legendary Folsom Street Fair, where debauchery is highly encouraged, business was slow and only a few people used the Truck.
Rather than blame it on her semi-pricey rental rates, Emerson believes the lack of clientele is a reflection of society's issues with sex.
"I think they're embarrassed of this beautiful gift that we've been given," she said. "We've been shamed into being ashamed of our hair and our smells and our sagging skin."
Her solution for overcoming that?
"Love ourselves more and accept sex for the beautiful gift that it is."
And then, once you do, go rent the Hook-Up Truck.