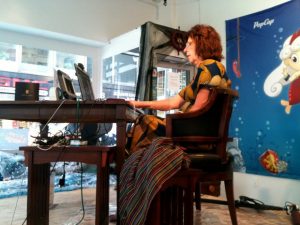 It was lunch hour on the corner of Lexington Avenue and 47th and the intersection was teeming with people. A Prêt-A-Manger employee proffered brownie samples to passersby on a silver tray. A family of five, laden with backpacks and rolling suitcases, searched for a cab. A man in a suit peeled a banana. A panhandler begged for money. A knock-off purse salesman set up shop. And Kathleen Henkel, a 68-year-old retiree from Oakland, New Jersey, played another round of solitaire.
"This game is great," said Ms. Henkel, a sprightly red-head wearing a patterned shirt and skirt outfit that she bought in West Africa and a beaded ankle bracelet. "It's addicting."
She was sitting in front of laptop computer in a white corner room penned in by two walls of floor-to-ceiling windows facing out to the street. Cameramen and videographers crowded around her, snapping pictures and rolling film. Curious pedestrians, passing by, paused to peer in. Models—Dan Metz, Brandon Collins, Jay Parks, and Georgie Badel— and minor celebrities—Kenley Collins, Chelsea Krost, and Lady Jenn Bocian—ostensibly there for the publicity—"What is this for again?" said Ms. Collins—preened in the background.
Ms. Henkel hardly noticed them. Her eyes, hidden behind red-wire glasses, were glued to the screen in front of her. She'd played solitaire before, but today was different. Today she is attempting to break the world record for the longest videogame marathon playing a card game. She's not alone: 31-year-old mother of three, Laura Rich, from South Wales, is attempting to do the same on the other side of the pond.
A few months ago, both women were contacted by PopCap Games, a video game developer based in Seattle, best known for their 2000 gem-swapping game, Bejeweled. The idea, they were told, was two-pronged: create publicity for their new social media game, Solitaire Blitz, and raise money for charity.
"We wanted to do something unique," said Laura Jackson, a public relations representative for PopCap Games who produced the New York event, "and we knew this would be the way to do that." Solitaire Blitz is an animated, nautical-themed online card game that can be played for free on Facebook. Since its release in March, over two billion hands of the game have been played, the company said, with an average of 1.6 million sessions played per day.
To find players who were up for the challenge, PopCap Games looked at a list of the most frequent Solitaire Blitz players. The results were surprisingly unvaried, said Ms. Jackson who was part of the selection, and consisted mostly of women over the age of 35. But finding a player was difficult. "I was reaching out to players and I wasn't the getting the sense that any of them were right," said Ms. Jackson. "I had to be able to pick someone who would be able to go the 30 hours and I wasn't getting that sense that any of them were very motivated."
Ms. Rich, the London player, was selected from the list of avid players, but this was not the case with Ms. Henkel. In fact, prior to finding out about the event, she had never even played Solitaire Blitz. "But it's not like I hadn't seen the game before," Ms. Henkel said. "I am on Facebook."
So how did Ms. Jackson choose Ms. Henkel to be the New York Solitaire Blitz player? "I remember distinctly it was 5 a.m. and I woke up and I thought, 'Kathleen Henkel,'" Ms. Jackson said.  "She'd be our player." The women had met three years earlier while taking an African drumming seminar in Guinea, West Africa, but had lost touch once they returned to the States. "But I knew she was the one," Ms. Jackson said. And it turned out she was right. Ms. Henkel, a life-long solitaire player, was interested in the challenge, and she was also a fan of the organization that it would be raising funds for, charity: water. The donated funds are used to bring clean and safe drinking water to people in developing countries through the construction of wells and education about hygiene and sanitation.
Her role in the solitaire challenge was meant to be, she told Betabeat. She's been playing solitaire since she was young, and she retired from her job as a substance abuse counselor for criminal offenders to pursue projects providing access to water after a visit to West Africa.
According to the Guinness Book of World Records rules, she is allowed a ten-minute break every hour, which she plans to spend doing Qigong stretches, visiting the bathroom, or eating a snack.
"Right now I'm doing okay," she said, after almost five hours of playing. She spent the last few weeks training by playing the game for a few hours each day, and had a bran muffin and Greek yogurt for breakfast. But there's another thing she attributes her strength to: her amber necklace. "I'm a crystal fanatic," Ms. Henkel said. "I was going to wear a Labradorite necklace but when I looked up the properties of this one, I just had to wear it today." It is believed that amber brings good luck and protection.
If all goes to plan, Ms. Henkel will be playing Solitaire Blitz in the corner space of the Roger Smith Hotel on Lexington Avenue until 3 p.m. Wednesday, June 27th. "Fresh juice would be nice," she said, glancing up briefly from the computer screen to muse about lunch. "I heard they have a place around here."