Incorporating weed into nail art is the new way to show your love for the plant.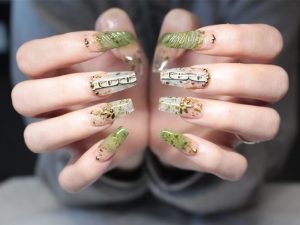 Walk into any nail salon and chances are you'll be greeted with the smells of rubbing alcohol and acetone. But a new trend is sweeping the nail-art world that might introduce another scent into the mix: marijuana.
Dubbed "weed nails," the style incorporates cannabis products — such as the leaf itself, ground-up bud, or hash oil — into acrylic nails, and using them to create designs. Like flower pressings, weed can be sprinkled into the clear bedrock of the acrylic, color-blocked into a pattern, blended into an ombre, or bedazzled with rhinestones and glitter.
Louisiana "Louie" Pham, owner of the Orchid Nail Lounge in Santa Clara, has even used ash from a blunt and slivers of rolling papers to create decorations on her clients' nails. On a Wednesday afternoon in February when I visit Pham at her store, she's in the process of snipping out the "100" from a fake $100 bill to glue into the center of a weed-flecked acrylic nail. For almost four years, Pham has been doing weed nails, and it all started thanks to the customer whose nails she's currently working on. (Click here to read more)