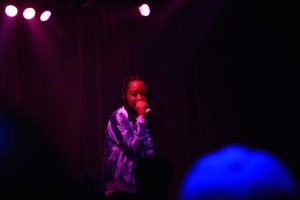 Amber London is in a moment of transition.  Like many 23-year-olds, the Houston-bred rapper is contemplating moving out of her family's home, what she wants from her career, and where her identity fits with that vision. "I'm figuring out who I am," she says. "Just figuring out the world that I'm living in, and, you know, young adult-type problems."
But Amber London—née Linwood—isn't your average 23-year-old. She's got five releases under her belt, 15,000 Twitter followers (and counting), and a standout flow that's earned her endorsements from the likes of Spaceghostpurrp and Gangsta Boo.
It makes sense, then, that the self-proclaimed "Underground Queen" would document her life in flux on her latest release, Life II Death. The mixtape marks her first project since 2014's chopped and screwed record Hard 2 Find. Her penchant for the style is still there, but it also sees her shedding the hazy, early 90s influence that dominated earlier works like 2012's acclaimed 1994. Nixing the retro sound was a conscious decision, she says, largely because the 90s have become too popular for her taste. "The 90s will always be an influence, but I met too many people who are doing it now," she says. "It's all about staying ahead of the game."
London, who grew up in Alief, Houston and still lives with her family, has been rapping since the age of 13.  Most of her songs are born from the freestyles she spits through a computer mic when she has something on her mind.