Honolulu Weekly  (Cover Story)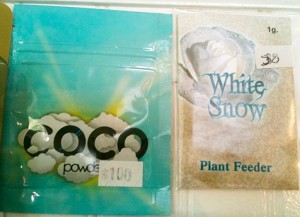 The half-gram bottle of bath salts promises an "invigorating" and "energizing" experience. But the new designer drug, called MDPV (or "legal cocaine") is sending an alarming number of curious teenagers and seasoned drug users to emergency rooms and mental hospitals throughout the country, according to the Rocky Mountain Poison and Drug Center, the poison control center for Hawaii, Idaho, Montana, Colorado and Nevada. It reports that two weeks ago it had only three calls relating to bath salts across all five states. As of Feb. 16, however, that number had jumped to 13 calls.
The substance, disguised as "bath salts" or "plant food," contains a toxic chemical called mephedrone and is deceptively marked "not for human consumption."
"We are really alarmed," says Alan Johnson, chief executive officer of Hina Mauka, a residential treatment facility in Kaneohe. "We haven't seen cases of bath salt use yet but it's a growing concern. It produces intense cravings very quickly. They inhale it, which makes it a lot worse. There are other agents in it that might be interacting with the drug but we don't know because it's proprietary information."
"Bath salts have already been linked to an alarming number of ER visits across the country," says Nora D. Volkow, M.D., director of the National Institute on Drug Abuse (NIDA) in a recent NIDA newsletter. "Mephedrone presents a high risk for overdose. The [limited] information we have is worrisome."
In Hawaii, local law enforcement officers on all the islands have reported mephedrone being sold as a new "ecstasy-like" drug on the street.