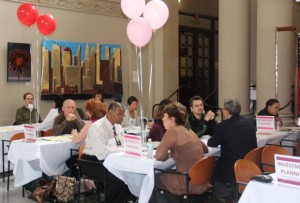 Money was the theme of the day on Saturday as hundreds of people flocked to City Hall to partake in Financial Planning Day, a free event that provided no-obligation financial advice and counseling. The event was hosted by the city of Oakland and the East Bay chapter of the Financial Planning Association (FPA), a networking organization for certified financial planners, and offered attendees both workshops and one-on-one meetings with certified financial planners.
Now in its second year as a national event, Financial Planning Days have grown in popularity; during the first four hours over 300 people attended the Oakland event.  Dozens of participants waited their turn on the balloon-decorated mezzanine to meet with one of the many financial advisors seated in rows of long, white tables for 15 minutes at a time. Below, on the ground floor, workshops were held in classroom-like settings, and featured both lectures and power point presentations.
Haly Pilgrim, an employee at the Oakland International Airport, took the day off of work to attend. "I'm pretty bad at money planning, 401(k)s, and those kinds of things," she said. "I thought that I could come and maybe get some idea on how to invest in stuff like that."
Others were happy to just get clear, easy-to-understand financial advice and to have their questions clarified. "I've always been intimidated just by asking a question because I think that everyone else already knows what they're doing and I'm the dumb one," said Oakland resident Dan Sawran "There's just so much out there and I have no idea where to start."
Free financial advice workshops are no new thing to Oakland. In fact, Financial Planning Day itself is modeled in large part after local certified financial planner Frank Pare's financial planning clinics, which he first started organizing in 2008.