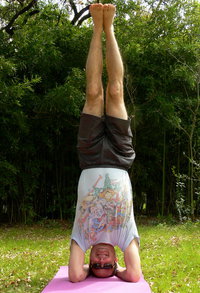 It's no secret that humans develop aches and pains in the normal course of spending time on the planet, but while many people pooh-pooh it and carry on, Lulu Bhanda yoga teacher Kira Ryder notes that sometimes these changes can have a big impact.
"The small details we take for granted when we're young become immense as we age," she explains. Trivial tasks, such as carrying groceries, bending down to tie your shoe or walking up and down stairs can become challenging and painful if not addressed.
One of the ways to alleviate some of this distress and possibly prevent it is through yoga. "With yoga, we have seen many people get their lives back. When people tell us that they are finally able to sleep through the night, walk again and play with their grandchildren without tiring, we know the yoga practices are working," Ryder says.
But yoga can be intimidating, especially at a large studio where most students are in their twenties and classes have an average of 50 students.
"The thing to remember is that you don't have to be an athlete or stud to join a yoga class," says Neal Pollack, a 40-year-old yogi and author of Stretch: The Unlikely Making of a Yoga Dude.