The Memphis-bred Three 6 Mafia MC's got you covered when it comes to turkey chops, butter cake, and a taste of southern living.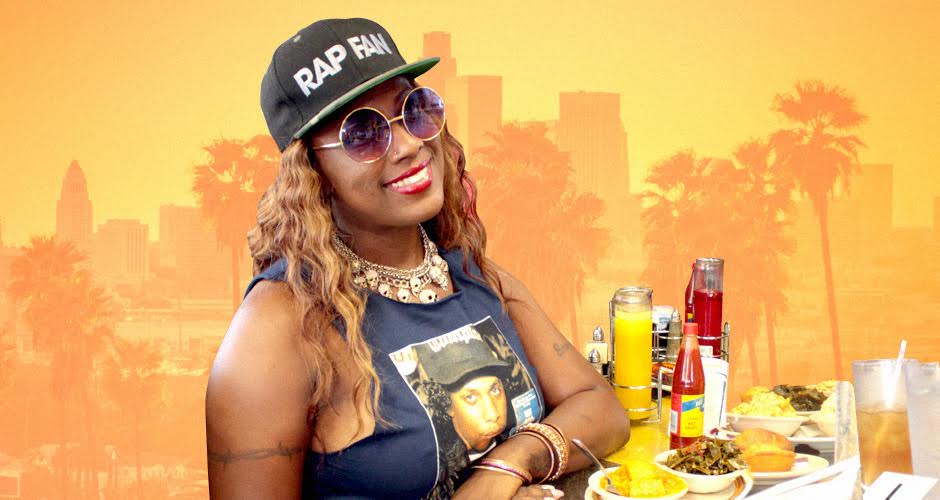 It's a Friday afternoon when rapper Gangsta Boo pulls into the parking lot of a soul food restaurant in Inglewood. The Tennessee-raised MC—who was the first (and only) female member of Three 6 Mafia—is wearing jean overalls, an Eazy-E t-shirt, and a snap back hat with the words "Rap Fan" emblazoned on the front. Her boyfriend Emmett, a Playa Del Rey native, is in tow, she explains, because today's his birthday, and she didn't want to leave him alone. Besides, it was Emmett who introduced her to this very spot, bringing her one step closer to finding comfort thousands of miles away from Memphis.
Boo and her boyfriend walk into the restaurant and choose a booth in the corner next to a wall plastered with photographs. "I normally don't eat soul food this early," says Boo. But as she picks up the dense 12-page menu and starts flipping through it, she confesses that she's actually rather hungry.
And for good reason. Soul food is, after all, the thread that ties Gangsta Boo to her time spent growing up in the South. "My mom, my friends' moms, everybody cooks soul food in Memphis," she explains. "You go to Grandma's house on Sunday and she'd have soul food. It's just a way of life over there." (Click here to read more)