Three decades after its release, the 67-year old San Francisco musician's debut album finally enters the limelight.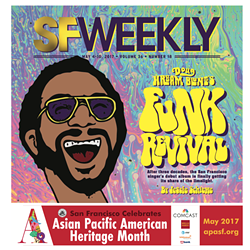 Doug Hream Blunt was watching TV in his first-floor, Visitacion Valley home when the phone rang. It was the middle of 2015, and the 67-year-old — who doesn't own a computer and only recently upgraded from a flip-phone to a smartphone — had just returned from dropping his daughter Juanita off at middle school. Blunt wasn't expecting any calls that day, least of all from a boutique record label in New York City.
"I looked for Doug online and called him up," says Yale Evelev, president of Luaka Bop Records. "The conversation was along the lines of me saying we loved his music and we'd like to put it out, and him laughing and saying, 'OK.' "
Unusually late in life for a musician, Blunt began recording his kaleidoscopic, guitar-forward music in 1985 at the age of 35, but he hadn't released any new material for almost two decades. The label, formed by Talking Heads frontman David Byrne in 1988, had learned of Blunt through an obscure DJ mix that contained his late-'80s, fuzzy, psychedelic jam, "Gentle Persuasion." The song's hypnotic melodies and Blunt's breathy, stream-of-consciousness lyrics impressed Luaka Bop, which had just finished a five-year record-release project with funk musician William Onyeabor.
"We found [Blunt's music] really mind-blowing and interesting and weird and hard to explain," says Eric Welles-Nystrom, Luaka Bop's director of communications. "It sounded like it was from the '70s, but at times, it had an '80s and even '90s sound." (Click here to read more)