For more than four decades, the KPOO DJ has been spinning '50s and '60s tunes on nighttime radio.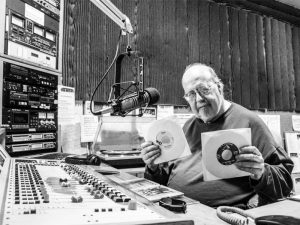 It's a little before 8:30 p.m. on a Monday night, and Jim Rigsbee is sitting in the studio at public radio station KPOO, shuffling through a stack of CDs and 7-inch records. For more than 40 years, Rigsbee — better known to listeners as Rockin' Jim — has been hosting Grinders Grooveyard, a late-night program consisting of pop and rock hits from the 1950s and '60s.
Rigsbee inherited the show in 1976 from its original hosts, who created the program when KPOO was founded in 1971. A retired customer-service agent and "jack-of-all-trades" for the San Francisco Chronicle, the 69-year-old has long grown accustomed to the show's nocturnal hours, which are currently 8:30 p.m. to 11:30 p.m. on Mondays, but in the past have continued as late as 2 a.m.
Rigsbee — wearing a crewneck sweatshirt, Manchester United sweatpants, and oval wire glasses nestled halfway down his nose — is an S.F. native who currently resides in the Outer Mission. He remembers listening to Elvis Presley on the radio at the age of 8 and can recall seeing shows at iconic (and now-defunct) turn-of-the-century concert venues, like the Fillmore West and Avalon Ballroom. (Click here to read more)