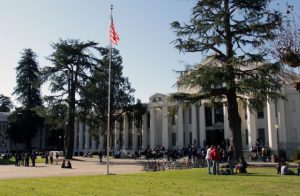 The bell rings— a prolonged buzzing signaling the end of class.
Attention students: lunch is being served in the cafeteria, announces a female voice over the intercom. Lunch is being served in the cafeteria. There's chicken wings and fries, pizza and fries, and salad bar.
Within moments, hordes of students come rushing into the Oakland Tech cafeteria, sidling up in line in front of the kitchen and dropping their backpacks and jackets off at one of the circular red tables. You can tell they're hungry. They joke and they jostle and some try to cut ahead in line by joining up with their friends.  Pizza and hot wings are popular entrees, as evidenced by their almost daily appearance on the menu—but today's piece de resistance is the big pile of strawberries in the salad bar.
"Hey, hey, hey! Only four strawberries a person," says Sharif Patterson, a transitional trainer for the special-needs students, who's volunteered to watch over the salad bar today.   And next to her, arms folded, dressed entirely in purple, is Jennifer LeBarre, the director of nutrition services for the Oakland Unified School District, who is on a site visit at Oakland Tech this Wednesday afternoon.
"Every week I just go out and I try to get to as many schools as I can," she says. "It's one thing to be at the desk and hear from people, but I really want to see how things are operating."