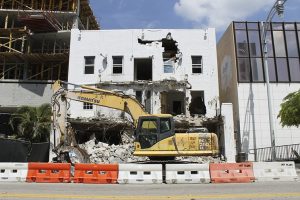 Phillip Pessar's Flickr stream reads like a love letter to Miami. In roughly 9,600 photos, it tells the story of South Florida's ever-changing architectural landscape.
The photos are simple — many of them head-on shots of old department stores, abandoned burger joints, historic hotels, and bulldozed office buildings. There are no fancy editing tricks or filters, just straightforward photography. Every day, almost without fail, new pictures are added. And all consist of the same thing: images of Miami and South Florida architecture in various stages of decay, disarray, remodeling, or rebuilding.
His photos are regularly used in articles and on news blogs. They're in the Huffington Post, Forbes, USA Today, and theMiami Herald, to name just a few. They're also featured in cookbooks, travel guides, insurance advertisements, and real-estate blog posts. But in the ten years Pessar has been taking photos, he hasn't seen a dime. His work is available under Flickr's Creative Commons and can be used by anyone as long as they give him credit.
Though Pessar's photographs might be unremarkable, he has found a niche cataloging the mundane and quotidian: a bankrupt Radio Shack location, a Wet Seal store going out of business, an Airstream trailer outfitted into a food truck. (Click here to read more)