There's just something about riding in a vintage Volkswagen van that makes taking a tour of San Francisco so appealing.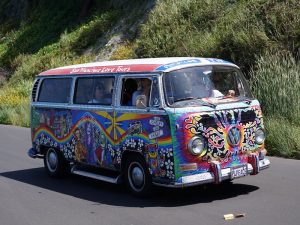 A vintage Volkswagen van covered in psychedelic, S.F.-centric paintings idles on the corner of Jefferson and Hyde streets, its doors wide open with Redbone's 1974 hit single "Come and Get Your Love" blaring through its speakers. With cobalt-blue seats, orange shag rug flooring, and plastic beaded curtains, the van looks like a perfectly preserved time capsule from the Summer of Love, replete with a license plate that reads "P4PEACE" and a pair of blue-lensed "John Lennon" sunglasses hanging from the rearview mirror. It's part of a fleet of four vans — each with their own names, like "American Pie" and "Liquid Dreams"  — owned by San Francisco Love Tours, a sightseeing company that adds a hippie twist to the regular tourist experience.
Started in January 2015, San Francisco Love Tours is the brainchild of Allan and Roberto Graves, two brothers with a passion for VW buses who learned their trade from their father, a longtime tour guide in Costa Rica. Though their buses visit many of the hotspots you'd expect for a tourist-geared business — think Lombard Street, North Beach, the Castro — the retro vans add a fun-loving flair to the experience, as well as a certain level of intimacy, since they can only sit six people at a time.
"We always wanted to create the feeling that we're driving around our relatives and close friends that are visiting from out of town," Allan says.
It's 2 p.m. on a Friday when I arrive at the meeting spot near Fisherman's Wharf, and I get assigned to a van named Sunshine, along with a family of four from Maryland who are all sipping iced drinks from Starbucks. (Click here to read more)