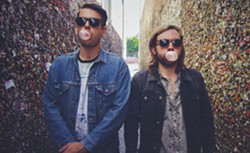 Midi Matilda was in a pickle.
The electronic-pop duo — consisting of drummer Logan Grimé and multi-instrumentalist and singer Skyler Kilborn — had dozens of three-foot-by-two-foot band posters printed on newsprint, but they had no idea what to do with them.
They originally planned on plastering them around San Francisco as a means of advertising their upcoming show at The Independent on Friday, July 8. But after doing some research, the Oakland band nixed the idea. "We didn't want The Independent to get in trouble," Kilborn says. (Though San Francisco allows the public to post signs on public property, municipal regulations limit what is allowed, such as poster size and the number of days that a flier is allowed to be up.)
So the pair came up with another idea. Using Facebook Live, the platform's recently launched live-streaming feature, they filmed themselves driving around, announcing to viewers in San Francisco that they would hand-deliver a stack of posters to anyone who messaged them an address.
Replies started pouring in, and they had time to drop off posters to fans in the Sunset and "somewhere off of Van Ness Avenue" in the hour or so before our interview.
"It was a fun little adventure," Grimé says. "When we'd drive there, we'd give them a hug, and they'd be like, 'Have a good show! Good luck with the interview!' It felt like we knew them already." (Click here to read more)