Chances are high that banning phones from shows will become the norm.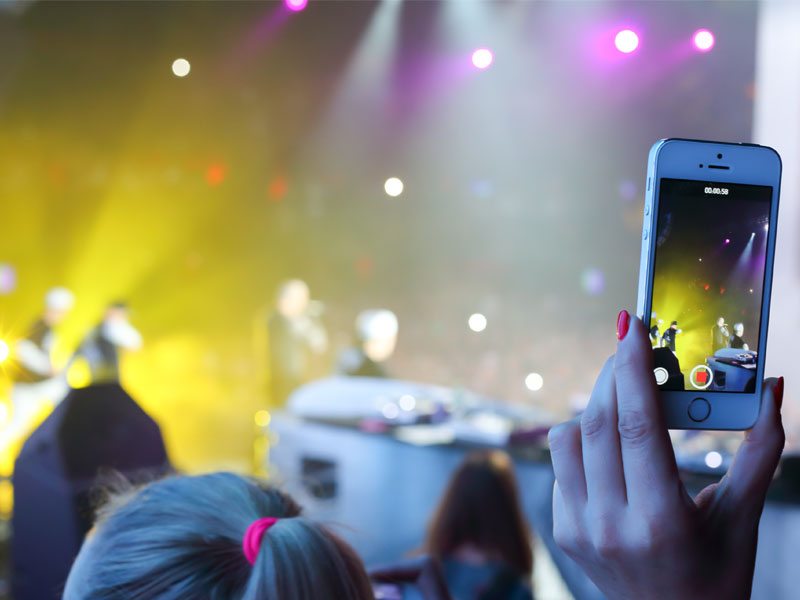 If you've been to a concert in the last few years, surely you've seen them: dozens upon dozens of cellphones hovering above the audience — and, most likely, blocking your view. But it's not just the view-blocking that is annoying about cellphone use at shows, nor is it only audience members who have beef with their rampant use. More and more artists and bands are fed up with cellphones at shows, and are arguing they not only distract the crowd and ruin the overall vibe, but lead to piracy and leaks, especially if they choose to unveil new material.
"[Without phones], there exists a somewhat mythical rave ideal, a crowd singularly in tune with the music," says San Francisco producer and DJ Lane 8, who, along with musicians like Alicia Keys and the Lumineers, has started banning phones. "If half of the crowd is on their phones at a show, it is literally impossible to create that atmosphere."
Lane 8's means of nixing the devices includes putting tape over the camera lens and enlisting extra security to make sure no one peels it off. Others, like Prince and the bands She & Him, the Yeah Yeahs Yeahs, and the Savages, have opted for more passive solutions, such as posting signs outside the venue or relying on security to do the heavy lifting by shining lights in phone users' faces or removing people from the venue.
And then there's Yondr, a startup that makes self-locking pouches that can't be opened unless they're demagnetized. The beauty behind this invention — which has been used by everyone from Keys to Dave Chappelle — is that it allows concertgoers to hold their phones, without opting for more drastic measures like locking them up.
But even this contrivance has its cons. (Click here to read more)