Planning daily meals for hundreds of seniors is no easy task.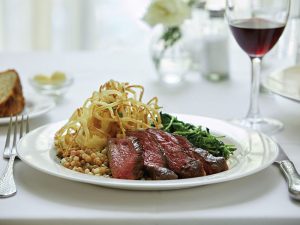 It's lunchtime at Rhoda Goldman Plaza, an assisted living community in Pacific Heights, and the 45-table dining room is in full swing. Uniformed and name-tagged waiters zig-zag around the L-shaped space, dodging the clientele's walkers and delivering steaming plates of vegetarian moussaka, slices of baklava, tiny dishes of ice cream, and bowls of "heart smart" broccoli soup. Diners at one table loudly discuss the "state of Judaism today" a few feet away from a couple who are quietly reading the day's San Francisco Chronicle.
Corey Weiner, the food and beverage director, is a face that everyone at Rhoda Goldman Plaza knows. For the last 17 years, she and chef Kelly Dame — both graduates of the Culinary Institute of America at Greystone in St. Helena — have planned and cooked all the meals for the dining room, and residents know that if they've got an issue with the food, these two are the ones to talk to. So it's no surprise when that is exactly what happens as Weiner trudges through the carpeted dining area on this particular afternoon.
"They didn't mix it with anything," a gray-haired man says as Weiner passes his table. He's eating the smoked whitefish plate with cucumbers, onions, and crackers, which is one of the two main courses on the day's lunch menu. "I like it this way. Was that an accident?"
Weiner, who by now is used to these off-hand critiques and compliments, patiently explains to the man that no, the way the smoked whitefish was prepared today was "not an accident," but she's happy to hear he likes it. (Click here to read more)