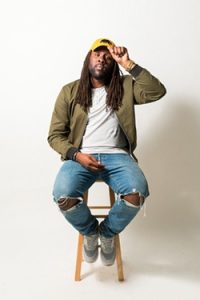 On a recent Saturday night, upwards of a hundred millennials gathered in an Emeryville warehouse to gleefully chant "Got me feeling like a dad right now."
Leading the chorus was a 6-foot-3 man with chest-length dreadlocks flecked with gold beads, dressed in an unassuming blue anorak and a solid yellow baseball cap. His name is Rexx Life Raj and he alternated between singing the chorus and rapping the verses to the song, called "Father Figure." The warehouse gathering and the dad-declaring crowd was in celebration of Raj's debut album — also called Father Figure — which came out June 23.
Raj, 26, writes all his own material, and occasionally mixes and produces his tracks as well. But what he really has a knack for is coining catchphrases and stick-in-your-head hooks.
Each song he performs has at least one line the audience belted out like an anthem, such as "I think I might have a mother-fucking problem / Crushing Adderall and marijuana!" or "Bitch, I'm a dad now!" (A "dad," in Raj's parlance, is someone who is "a boss," not a literal father.)
Calls for "more!" and "again!" rang out when he finished "Shit N' Floss," what was supposed to be the last song of the night. Raj obliged, signaling the DJ to play the track one more time. Everything about this night had been a long time coming for him and he was willing to prolong it for as long as possible. (Click here to read more)