The groudbreaking Bay Area trio is using music to connect global cultures.
SF Weekly (Cover Story)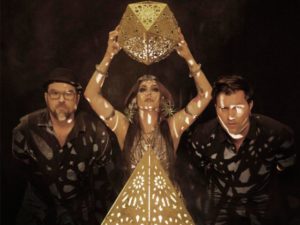 "Welcome home," says a girl with a back tattoo, snaking her arms in the air.
I'm standing in the pit of the Fox Theater in Oakland on a Saturday night in December, waiting for the electronic world-fusion band Beats Antique to take the stage. The venue, with a capacity of 2,800, is packed with people wearing yoga pants, utility belts, sombreros, and crystal necklaces. Whiffs of weed, patchouli, and peppermint are everywhere.
It's the kind of crowd where random high-fives are doled out, and I overhear clips of conversations about Renaissance Faire-themed weddings, the best stretches to do in the morning, and whether or not "these are drugs or just pills." In fact, if I didn't know better, I'd think I was at a Burning Man party.
The guy to my right, a techie from S.F. who's wearing a zip-up fleece jacket, tells me he rode BART in to see the band, which he's never before seen live but has been listening to since 2012. Earlier, I met a throng of women clad in flared pants and adhesive gold tattoos who had flown in from Boston just for the show.
"They're my favorite band of all time," one of them tells me, before being interrupted by a friend who brags about liking Beats Antique "since high school."
Eventually, the lights dim and a hush falls over the crowd as a woman with long, dark hair, smeared eyeliner, and a gold bra with tassels on the nipples takes the stage. She's Zoe Jakes, Beats Antique's principal dancer, and she's carrying a glowing golden ball of twine, just as she does on the cover of their most recent album, Shadowbox. The ball of light casts shadows across Jakes' face as she dances in the darkness, and the beginnings of an Indian raga, created by the other two members of Beats Antique — Tommy Cappel and David Satori — peal throughout the room.
Ten minutes in, and Jakes is still performing, her gestures and movements mirroring the song's changing tempos. As strobes of red light beam down from the rafters, the bass picks up, careening into a full-fledged gallop, and Jakes starts spinning in circles, the ball extended horizontally in front of her.
When the bass dies down, Jakes stops spinning and slips backstage while Satori addresses the audience.
"It's good to be home," the bespectacled musician says, picking up the violin. "We love you, Oakland." (Click here to read more)