Since 2007, Brooklyn Trio Yeasayer Has Crafted Diverse Albums That Range From One Extreme to Another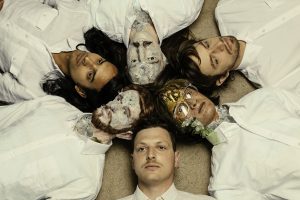 What do you do when your parents leave town? You throw a party — duh. That's what Tom Cruise did in Risky Businessand what Kid 'n Play did in House Party. When the parents of one of the members of the indie-pop trio Yeasayer left town in 2006, the band took over their Baltimore house, too.
But they didn't throw a party.
Instead, they turned the living room into a makeshift recording studio. Using a Blue microphone borrowed from a friend, they "spent a week down there just experimenting and probably thinking we were a lot more professional and knowledgeable about recording than we were," says bassist Ira Wolf Tuton.
Because the living room opened onto the kitchen, the "studio" was far from sound-proofed. The musicians had to repeatedly unplug the refrigerator because the mic they were using — "It was way too much for us to understand," Tuton says — was so powerful it picked up the machine's humming.
By the end of the week, the burgeoning group — who still worked side jobs while trying to make it in Brooklyn — had recorded four songs, including the drum-heavy polyrhythmic psychedelic-folk ballad "Sunrise," which would eventually become the lead single on their 2007 debut album, All Hour Cymbals.
I first heard "Sunrise" in a trailer for a college-produced short film a friend appeared in. I wasn't intrigued by the movie, but my ears perked up when I heard the song. I became a Yeasayer fan soon after that, devouring the band's whimsical, ethnocentric debut with its myriad percussion instruments — cymbals, synthesizer, tribal drumming, hand clapping — falsetto cadences, and multi-part harmonies. (Click here to read more)