The unlikely music factory at Pinole Valley High School
SF Weekly  (Cover Story)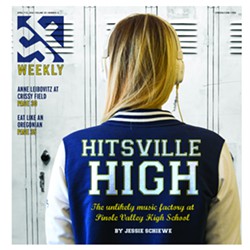 The lunch bell rings at Pinole Valley High School, and hordes of teenagers swarm out of squat, rectangular bungalows.
Since the fall of 2013, Pinole Valley's 1,200 students have been learning out of 83 portable buildings placed on what used to be a baseball diamond next to the school's track. The old school, a one-story building dating from 1967, was torn down two years ago to make way for a substantially larger replacement, replete with palm tree-lined walkways and enough classrooms to house 400 additional students. The estimated opening date is 2019, which means three classes of Pinole Valley students will spend the entirety of high school at a campus that lacks an auditorium, cafeteria, gym — or buildings in general.
But on this Friday in March, aside from the facts that there are no lockers on campus nor hallways (other than the outdoor paths between bungalows), Pinole Valley could be any other suburban high school in California. In the central eating area — a collection of cement picnic tables partially covered by an awning, the main hang-out area for students — students dine on packed lunches or meals purchased from one of the two cafeteria kiosks. Seagulls hover nearby to swoop up stray bits of food as a delighted senior hugs a plush white teddy bear while telling a gaggle of girls how her boyfriend asked her to the prom.
A combination of pop and hip-hop songs play from a lone speaker connected to a cell phone carted out to the lunch area by the student government — a weekly tradition, Principal Kibby Kleiman says, that has rolled over from the old school.