RJD2 and his inventive, wearable music-making technology.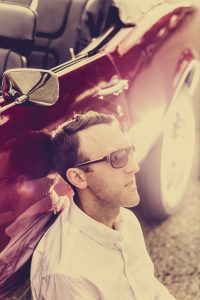 RJD2 is a fiddler. Whether it's music or contraptions, RJD2 — the DJ and producer born Ramble Jon Krohn — has a knack for taking things apart and then putting them back together in an unrecognizable way. Reached at his Philadelphia studio on a recent Wednesday afternoon, he was busy cutting yet another remix of another artist's song.
Remix offers are common for RJD2, who enjoys tinkering with other artists' songs when he has the time. Just because he's offered the chance to remix a song though, doesn't mean he'll take it. He won't "blindly commit to a remix based on who the artist is," and has been known to turn down remix offers "because I've thought the song was perfectly fine in its incarnation and there was nowhere to go with it."
Remixing a song, he says, is more a matter of deciding what he'll cut from a song and what he can do with what's left. "I need to have a path forward," he says. "I need to feel confident that I can come off well doing my thing on a remix."
In addition to tinkering with songs, RJD2 is also a big fan of tinkering with contraptions. In 2006, while on tour with Soul Position, his side project with rapper Blueprint, he designed a harness to strap a 20-pound Music Production Center (MPC) sampler/sequencer to his chest so that he could make beats live, while walking around the stage. He called the device "Mo' Buttons." "I wanted to take the nerdiness out of the whole dude standing behind a table staring downwards motif," he says.