The story of how four friends turned a barbecue in Golden Gate Park into a dance music empire.
SF Weekly (Cover story)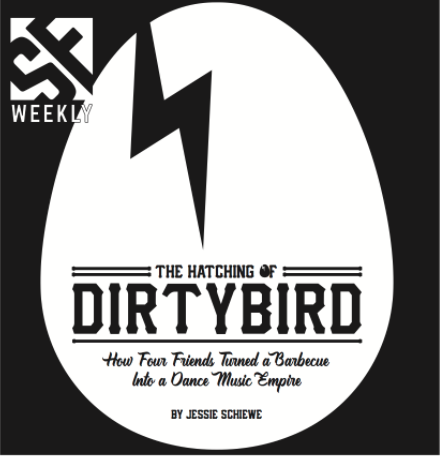 I'm standing in the center of a party bus, clinging to a stripper pole. Deep, molecule-rearranging bass music vomits out of the speakers, drenching the packed bus in hypnotic melodies as it trundles toward our destination.
It's a crisper-than-expected Saturday afternoon in the middle of August, and I'm about to attend a barbecue. But not just any barbecue: one thrown by Dirtybird, the tech-house collective and label that has become an international phenomenon since its modest beginnings in San Francisco 13 years ago.
The crowd gathered on the eastern edge of Treasure Island is young — in their early 20s to mid-30s — and dressed as if they're at a Halloween carnival. I see zookeepers and dinosaurs, caped wizards and gray squirrels with inflatable tails. Two girls in white faux-fur coats wander about wearing matching rubber hamburger masks, while a man dressed as Jesus heaves a baseball at a tower of milk jugs. One guy with dreadlocks walks around tapping people on the shoulder and asking, "What's up, Dirtybird?"
Scattered around the asphalt-covered, palm-tree-dotted space are a variety of white tents housing the party's essentials: alcohol, merchandise, and barbecue courtesy of the SoMa-based eatery, Cat Head's BBQ. But the real draw is the stage.
Claude VonStroke, the bearded father of Dirtybird, stands behind the red-and-white checkered DJ booth, his hands hovering over the mixing board, flipping switches and twisting knobs with studied nonchalance. The bulk of attendees are gathered here, their heads bobbing and arms flailing in time with the music, which is a blend of Detroit techno and ghetto house, with a piercing, energetic bassline. Buried beneath the monotonous soundtrack, so deep that it almost sounds subliminal, is a high-pitched voice intoning scandalous words and phrases, like "in the butt" and "dick, dick, dick." (Click here to read more)