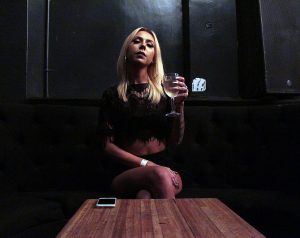 It's Friday night, a little after 10:30, and I'm hoofing it through Hollywood to a spot called Las Palmas where Lil Debbie is premiering her new EP, Home Grown. There are stragglers hanging out front and they're all young, definitely not over the age of 25, some of them probably not even over 21, which I assume is why they are hanging outside to begin with. Because that's the thing about rap and hip-hop shows: They're always mired with youngins.
The last — and only — time I saw Lil Debbie was back in 2013 at a place called Venue in downtown Oakland. The Venue is one of those multi-use spaces with a stage and a bar and lots of floor space, and I remember being impressed with the size of the room when I got there. Impressed because I didn't know much about Lil Debbie, other than the fact that she was in the White Girl Mob, and impressed because I hadn't been to a rap show since high school.
V-Nasty was there, and probably Kreayshawn, too, but all I can remember is Lil Debbie strutting across the stage in a pair of silk boxer shorts, gesticulating and waving the mic around. Her tiny, 5'2″ frame was a mere wisp compared to V-Nasty, and yet she was just as fierce, just as tough. The rest of the night is a blur — let's be honest, I probably drank one too many glasses of Moscato — but I remember watching her perform as if it were yesterday.