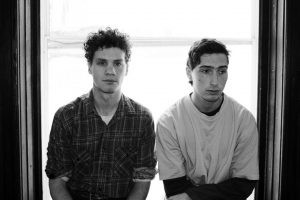 For the last six months, the seven members of the Chicago band Whitney have been homeless — sort of.
Though they've been living out of suitcases and backpacks, they haven't necessarily been sleeping on the streets. Instead, they've been touring — first across Europe, then through North America — staying in hotels, at fans' houses, and, occasionally, in a 10-person tent, if they happen to be near a national park.
"We've pretty much given up our entire settled lives to go on the road and support this dream," says guitarist Max Kakacek.
The only constant in their lives has been their van: a powder blue 15-passenger 1997 Dodge Ram with "Grace Baptist Church" emblazoned on its sides. The septet bought the clunker in February from a church in "the middle of Indiana" that they found through Craigslist. In the seven months they've had it, they've racked up more than 30,000 miles thanks to their relentless gigging. (Case in point: Their upcoming performance at Outside Lands on Friday will mark the band's second visit to San Francisco in less than four months.)
Though its AC is busted, there are perks to driving a former church van, Kakacek says. Thinking they're a religious group, hotels will sometimes give them discounts, and occasionally, when the car is parked, people will drop donations through the open windows.
"It's really weird," Kakacek says. "I feel like [society] commiserates more with religious people." (Click here to read more)