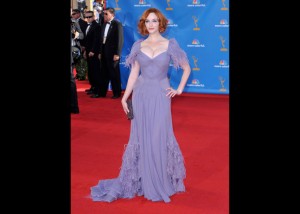 WHEN ACTRESS CHRISTINA HENDRICKS  first started attending red carpet events, finding something to wear was a challenge. "Not one designer [would] loan me a dress," she told Scottland's Daily Record in 2010. But it wasn't personal, said the designers. They just didn't have anything bigger than a size two.
Over the years, Hendricks, who plays Joan Holloway in Mad Men, has learned how to navigate an industry that favors bones over bust. Instead of hiding her size 14 figure, she wears tailored, form-flattering pieces that cinch her waist and hug her curves. She prefers bright, loud colors, plunging necklines and has a weakness for the flashy and ornate. She's worn outfits adorned with feathers, tassels, leather, sequins and ruffles, as well as Swarvoski crystals and decorative flowers as large as her head. Sometimes her red carpet ensembles are a hit and sometimes they're an epic miss.
With the 7th season of Mad Men around the corner, we thought we'd take a look at some of her most memorable past red carpet ensembles.
(Click on the link to view the slideshow)