Oakland hip-hop crew Down 2 Earth channels '90s rap and laidback vibes in its new album.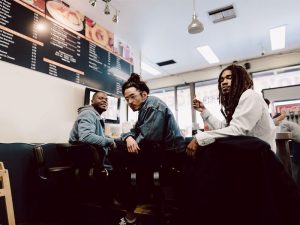 When the Oakland hip-hop quartet Souls of Mischief dropped its debut album in September 1993, it sent ripples throughout the rap world.
Filled with obscure jazz and funk samples, internal rhyme schemes, and live bass, '93 'til Infinity stood in stark contrast to the G-funk, gangsta-dominated, "gin and juice" era of hip-hop that was then sweeping through the West Coast. Mellow, chillout rap caught on like wildfire, and Souls of Mischief's democratic style of trading bars so that each member got his share of the limelight became a common method for other acts.
It's now been 20 years since the Oakland crew released its debut album, but Souls of Mischief's impact is still reverberating — and you can hear their influence in the Oakland group Down 2 Earth.
"I think our formula is very similar to Souls of Mischief's, even though that was 20 years ago," says Down 2 Earth rapper Azure. "We're very much a lyricist lounge type of act, and you can hear the similarities through little nuances, like making the drums extra-heavy." (Click here to read more)