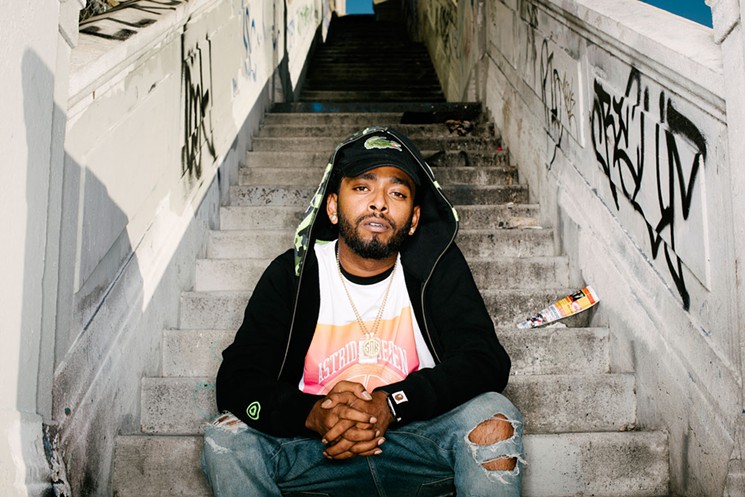 At Time for a Cut Barber Shop in Inglewood, Lonnie Kimble, known to rap fans as Skeme, sits slouched in a faux leather chair, his dreads pulled back in a ponytail and his knees peeking out of holes in his distressed Yves St. Laurent jeans. A bootlegged version of Straight Outta Compton, with Chinese subtitles, plays on the TV, while the shop's lone barber, Marlon, shaves the head of one of Skeme's "brothers."
It's a sizzling Friday afternoon in September and some of the guys in the shop have wet towels draped over their heads. The rest of Skeme's crew is camped out in the back of the room, sitting in a semi-circle around the shop's lone floor fan.
As his friends joke and gossip, Skeme looks on with a smile. These men — his crew and the other customers — are the people he makes music for, releasing all nine of his mixtapes for free. Though he has been offered deals with labels such as Top Dawg Entertainment, he has remained unsigned. He hasn't upgraded his lifestyle by relocating to Hollywood or the Valley, instead remaining a constant fixture in the neighborhood he grew up in and still calls home.
His music, he says, is tailored specifically for the streets, with themes of drugs, death and money. "These songs were made for Inglewood niggas," Skeme says, his voice raspy from years of smoking clove cigarettes. "I speak with their tongue. I say the shit that they're going through."