Compton rapper Problem reps all of California (and the L.A. Rams) in his music.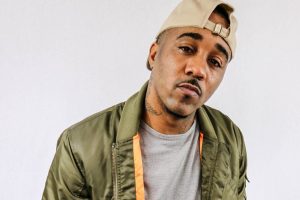 "One of my friends called me one day and was like, 'We're gonna call you Chachi,'" Compton rapper Problem tells me. He's talking about Chachi Arcola, Scott Baio's character in Happy Days, the younger cousin and sidekick of Henry Winkler's Fonzie. Toward the end of Happy Days' 11-season run, Baio co-starred in the show's spinoff, Joanie Loves Chachi, then got his first chance to be sole lead on the '80s sitcom Charles in Charge.
"So that's kind of how my career went," continues the 31-year-old, who's using the nickname in the title of his next record, Chachiville. "First I was writing for people, then I started being a featured artist on stuff, and then I had my own thing."
It's Sunday morning and we're in San Bruno, a sleepy suburb south of San Francisco, having breakfast next door to a taekwondo studio and a Weight Watchers. The goatee'd emcee, whose most famous track is the 2013 single "Like Whaaat," has brought along his manager, Melissa Keklak, and nephew-turned-DJ Kyle aka DJ Kai, who, though only 15 years old, has already joined the rapper for one national tour.
Problem grew up in Compton in the '90s and considers himself lucky, because his musical awakening came around the same time many of the West Coast's second generation of rappers were coming up. He says he used to run into Nipsey Hussle while pasting promotional posters around South Central and recalls meeting Ty Dolla $ign back when he "looked like D'Angelo, sitting in his mama's house, just playing the fucking piano and shit." Problem credits Inglewood rapper Skeme for helping him get on the radio the first time, and says that Schoolboy Q was once his roommate for six months. (Click here to read more)