The Bay Area loses HBK rapper Iamsu! to Atlanta, but he promises he'll be back.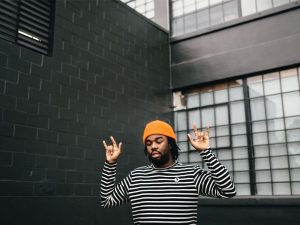 In the last few years, a hot topic of conversation has been the mass exodus of musicians leaving the Bay Area for other locales, thanks to increased living costs, a shrinking artist's community, and the infiltration of tech. SF Weekly covered the epidemic in a 2014 cover story, John Dwyer of Thee Oh Sees and Ty Segall discussed their decision to leave San Francisco for Los Angeles with Pitchfork, and, earlier this year, SPIN published a tome about the creative greats who have left our region.
And now another Bay Area artist has decided to move on: the nouveau-hyphy rapper and HBK Gang founder, Iamsu!
When I reach the 6-foot 4-inch emcee (born Sudan Williams) by phone on a Wednesday afternoon, he tells me that he's in the process of moving into his newly purchased, six-bedroom, five-bathroom, three-story house in Atlanta.
"I just got checked for termites, I got all my locks changed, and I set up my cable and my internet today," he tells me. "I also talked to 2 Chainz, and he's going to help me build a studio in my house."
Only a few days prior, the multi-talented 27-year-old — who, in addition to rapping, also sings and produces — signed the papers for the house, which he purchased from his grandmother's best friend after she decided to move when her husband died.
"Me and my mom talked about it," he tells me, "and we thought it was a good idea." (Click here to read more)