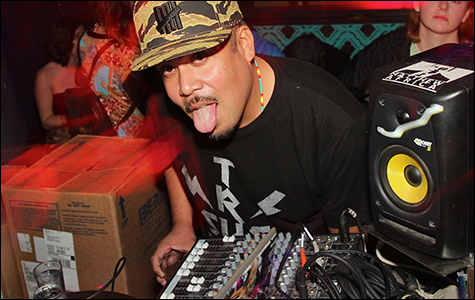 It's Saturday night at The Layover and the bar is close to maximum capacity. People of all ages are crammed onto the tiny dance floor, their foreheads glistening with sweat as they shake and bob to the music. A gaggle of girls start twerking in a corner and a young couple lock lips on a couch. Squelchy slap-bass and booming 808s pulse from the speakers as the DJ spins a mélange of trap, rap, dub, and electronica beats. More people filter in. Space becomes even tighter. Bodies collide. Cocktails are spilled. But the party keeps going. Welcome to NVR OVR.
Every fourth Saturday, The Layover hosts one of the most lively parties in Oakland, called, appropriately enough, NVR OVR. The massive dance party attracts a few hundred people every month and often lasts until 2 am. NVR OVR founder Marty Aranaydo (aka DJ Willie Maze) and resident DJs Starter Kit and Neto187 (of Trill Team 6 and Sick Sad World) are known for spinning tracks spanning a variety of genres and eras. Local DJs and musicians such as Antwon, Main Attrakionz, So What, RNB Millionaires, Nanosaur, Pony Loco, and Bobby Peru are regular attendees, and it's not unusual for them to perform as well. Aranaydo also designs and sells a new NVR OVR T-shirt every month, and up until recently, the ladies of local nail polish company Floss Gloss provided in-house manicures.
When you go to a NVR OVR party, chances are you'll hear music the likes of which you've never heard before — or even knew existed. Though the bulk of the music is rooted in rap and hip-hop, much of it is so eclectic, obscure, and hybridized that it's impossible to categorize it. Aranaydo usually starts the night off with a few recognizable hip-hop and R&B jams from the Nineties and early Aughts. But as the night progresses, so, too, does the music, into stranger and more eclectic spaces, and before you know it, you're being regaled with juke, dubstep, trap, drill, based, hyphy, ghetto house, moombahton, screw, club, 2-step, and trillwave. "We try to expose the community to new sounds that they may not be familiar with," said NVR OVR DJ Daryl "Starter Kit" Hutchinson, who has a reputation for playing songs plucked from the depths of the Internet. "One of my goals is always to make somebody want to come up and ask me, 'Hey, what track is that? I've never heard it before.'" NVR OVR's commitment to pushing aural boundaries and maintaining an inclusive, welcoming vibe has helped amass a strong base of supporters who attend every party and proudly wear their NVR OVR T-shirts around town.
Aranaydo, who grew up in East Oakland and was a founding member of the activist group Local 1200, has been working as a DJ in the Bay Area since his early teens. For roughly a decade, he spun at houses, warehouses, and clubs under the name Willie Maze, and it wasn't until 2008, while registering for a blog account, that he came up with the moniker NVR OVR.
According to Aranaydo, NVR OVR is a riff on the line To the hip hip hop and you don't stop from the well-known 1979 Sugar Hill Gang song "Rapper's Delight." From a visual standpoint, Aranaydo said he liked the graphic design possibilities that the simple three-letter words offered, and from a musical standpoint, he liked that the name alluded to hip-hop, but wasn't shackled to it.
"It's not naming a style of music," he said. "By taking the 'h' word out of it, I had more possibilities."
Also in 2008, Aranaydo DJed a party at Eli's Mile High Club that he called NVR OVR. Two years later, he designed a T-shirt to commemorate the ten-year anniversary of the death of his close friend and mentor, graffiti artist Mike "DREAM" Francisco, and added his first-ever NVR OVR logo on the back.
"It was kind of like this umbrella for all my creative projects," said Aranaydo. "What they were gonna become and what they were gonna do, I didn't know, but I knew something was gonna happen."
By 2012, when the owners of The Layover invited him to DJ at their bar, Aranaydo already knew what he'd call his night. At that point, NVR OVR had become more than just a name or a clever reference to a famous song — it was Aranaydo's brand and mission statement rolled into one. "We're going to keep evolving and keep discovering new and interesting things," he said. "We're gonna do this shit forever."