Incorporating weed into nail art is the new way to show your love for the plant.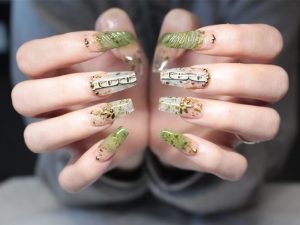 Walk into any nail salon and chances are you'll be greeted with the smells of rubbing alcohol and acetone. But a new trend is sweeping the nail-art world that might introduce another scent into the mix: marijuana.
Dubbed "weed nails," the style incorporates cannabis products — such as the leaf itself, ground-up bud, or hash oil — into acrylic nails, and using them to create designs. Like flower pressings, weed can be sprinkled into the clear bedrock of the acrylic, color-blocked into a pattern, blended into an ombre, or bedazzled with rhinestones and glitter.
Louisiana "Louie" Pham, owner of the Orchid Nail Lounge in Santa Clara, has even used ash from a blunt and slivers of rolling papers to create decorations on her clients' nails. On a Wednesday afternoon in February when I visit Pham at her store, she's in the process of snipping out the "100" from a fake $100 bill to glue into the center of a weed-flecked acrylic nail. For almost four years, Pham has been doing weed nails, and it all started thanks to the customer whose nails she's currently working on.

Sporting blue-blonde hair and a hoop nose-ring, Haley Gable — who works for the San Jose dispensary Elemental Wellness — has long been a fan of acrylic nails, getting her first set for her eighth-grade graduation. Pham has painted everything from the state of California to scenes from the Pixar film Up on Gable's nails, but around 2014, Gable decided to up the stakes. Though she'd had images of marijuana leaves painted on her nails, she wanted to know if Pham could put "real weed" in her nails instead.
Pham openly admits that she doesn't "know anything about weed" and has only smoked it once.
"I tried it one time in high school and I had, like, the best hamburger ever. And then I fell asleep," she says. "That was it. I was in a room by myself. Am I the lamest bud smoker ever?"
So she was tentative at first.
"I didn't want to be known as 'that crack house nail salon,' " she says.
But after learning that Gable had a California medical-marijuana card and that it would be her responsibility to provide the weed, Pham agreed. Weed nails, she realized, were not merely a new artform to add to her repertoire, but a way of connecting with and attracting more customers.
"For me, it's a medium to do my art. And for Haley, it has significant meaning because this the field she works in," Pham says. "So I want to be able to give my clients whatever they ask for and really have their nails reflect their personalities and lifestyles."
For clients who want weed nails, she's done everything from combining flecks of gold leaf and rose decals with bud to creating spiral unicorn horns out of shake. Because customers must bring in their own weed — and provide their medical-marijuana cards, which are then photocopied — Pham has worked with all sorts of strains and hues, and she's found that fresh herb is best because it's less brittle. She blocks out an hour-and-a-half for each client, and the service starts at $65 and lasts for three to four weeks.
Last October, Pham painted weed nails at a breast-cancer-awareness spa day at Elemental Wellness, helping to raise more than $12,000 in three hours. It was Pham's first time inside a dispensary, and it helped further her conviction that society's negative views on marijuana are "bullshit."
"Once I went to the actual club and saw how they ran things and saw their patients and customer base, it totally changed my perspective," she says. "I feel like it's a wellness lifestyle. It's not Bone Thugs-N-Harmony. It's so much more than what people to allude to."

Last year, Buzzfeed picked up on the weed-nail trend after finding a photo of Gable's nails on Instagram that she had hashtagged "#weednails." (To date, it's been used more than 4,000 times on the site.) The article went viral, and a swarm of publications like Cosmopolitan, AOL, High Times, and the Oxygen Network reached out to Pham, who benefited from the influx of customers coming to her store looking to get the procedure. Though it's since tapered off, Pham also received a significant number of queries from people asking if they could buy weed from her.
While her designs are inventive and exquisitely detailed, Pham knows that part of her success as a weed nail artist has less to do with skill and much more to do with availability. I spent a day calling up nail salons in San Francisco, and not one out of the dozens did weed nails (or had any idea what they were). Pham believes this is because the plant still has a bad reputation, and people are worried about the legality of working with it.
But, in all likelihood, the cops and the Drug Enforcement Agency couldn't care less. Morgan Fox, a spokesperson for the Marijuana Policy Project, told Buzzfeed that while there's a chance an "overzealous police officer" could arrest or cite someone for possession in a state where weed remains illegal, such a circumstance "would probably be rare and ridiculous."
I contacted the San Francisco division of the DEA, but the agency declined to comment. Apparently, the DEA has larger matters to attend to, which bodes well for Pham and other nail artists working with weed.
And even if there were a chance of being put behind bars for embedding legally owned and acquired cannabis into the nails of medical-marijuana patients, Pham is resolute in her commitment to creating weed nails.
"I don't even know the legality of a nail artist putting weed into their client's nails," she says, "but unless the feds come down and say, 'Louie, you can't do this,' I'm going to continue doing them."