Three decades after its release, the 67-year old San Francisco musician's debut album finally enters the limelight.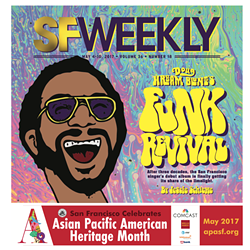 Doug Hream Blunt was watching TV in his first-floor, Visitacion Valley home when the phone rang. It was the middle of 2015, and the 67-year-old — who doesn't own a computer and only recently upgraded from a flip-phone to a smartphone — had just returned from dropping his daughter Juanita off at middle school. Blunt wasn't expecting any calls that day, least of all from a boutique record label in New York City.
"I looked for Doug online and called him up," says Yale Evelev, president of Luaka Bop Records. "The conversation was along the lines of me saying we loved his music and we'd like to put it out, and him laughing and saying, 'OK.' "
Unusually late in life for a musician, Blunt began recording his kaleidoscopic, guitar-forward music in 1985 at the age of 35, but he hadn't released any new material for almost two decades. The label, formed by Talking Heads frontman David Byrne in 1988, had learned of Blunt through an obscure DJ mix that contained his late-'80s, fuzzy, psychedelic jam, "Gentle Persuasion." The song's hypnotic melodies and Blunt's breathy, stream-of-consciousness lyrics impressed Luaka Bop, which had just finished a five-year record-release project with funk musician William Onyeabor.
"We found [Blunt's music] really mind-blowing and interesting and weird and hard to explain," says Eric Welles-Nystrom, Luaka Bop's director of communications. "It sounded like it was from the '70s, but at times, it had an '80s and even '90s sound."
The other songs in Blunt's collection were similarly spliced, imbued with the fierceness of soul, the seductiveness of R&B, the upbeat vibes of yacht rock, and the grooviness and nonchalance of funk. Like Curtis Mayfield on his 1972 album Superfly or Gil Scott-Heron in his 1974 jazz-funk classic "The Bottle," Blunt embeds his tunes with socially aware parables and ruminations about the state of the world. "Fly Guy," a swirling, wind instrument-filled ditty, is about a poor role model who is able to "teach the youth about drugs and abuse," while "Gentle Persuasion" is a paean to a prostitute whom Blunt sees "walkin' down the street" and wants "to save." Generally sprawling productions, Blunt's songs average at least five minutes in length, and, more often than not, they're sprinkled with extended electric guitar or flute solos.
On Oct. 16, 2015, Luaka Bop released My Name Is Doug Hream Blunt, a 10-track album that, for the first time ever, combined Blunt's myriad songs onto one record. It didn't go unnoticed. "Gentle Persuasion" appeared in an episode from Season 2 of Broad City, and Pitchfork called the album "charming." British DJ Gilles Peterson has spun Blunt's tunes in the U.K., and many artists — like indie rockers Yeasayer and chillwave musician Dean Blunt — are fans of his music. Los Angeles lo-fi legend Ariel Pink has called Blunt's music inspiring, and the DJ Peanut Butter Wolf even made Blunt a silk-screened sweatshirt with his name on it when he visited Los Angeles.
In 2016, Luaka Bop organized an international tour that included stops in Moscow, London, New York, Los Angeles, and New Orleans. In a few months, Blunt, joined by a backing band, will sing in Denmark, Portugal, Italy, Spain, and Australia.
In the last year-and-a-half, Blunt has received more attention for his music than he has in his entire life, and he's even become a belated cult music icon of sorts.
And to think: Fame was just a phone call away.
It All Started With a Community Music Class
In 1957, after Blunt's father died in an explosion at work, his mother moved him and his seven siblings from Arkansas to San Francisco's Fillmore District. One of Blunt's earliest musical memories is playing bongos with one of his brothers at Fisherman's Wharf, and he later played them on college campuses in Claremont, Calif., where he moved as a teenager.
By his 30s, Blunt had returned to San Francisco, working in construction before deciding it was "too scary" for him. He pursued a career in nursing instead — "It seemed more compassionate and safe," Blunt says — and became a certified nursing assistant at the Forest Hill hospital, Laguna Honda.
Around that time, Blunt, who had previously studied at Blue Bear School of Music, started taking songwriting classes at the San Francisco Community Music Center. In 1985, he signed up for a class called The Garage Band Workshop that was held off-campus in the garage of a home in the Richmond. Taught by drummer Victor Flaviani, the class was less about learning how to play an instrument than about learning how to play in a band with others.
Blunt, who joined the class because he wanted to learn guitar, was one of Flaviani's earliest students, and it was because of him that the class shifted its attention from playing cover tunes to original songs.
"Doug's this entrepreneur, and he's got great ideas," Flaviani says. "So one day Doug says, 'I've got some music that I wrote. Can I bring it in?' And I say, 'Yeah, sure. Let's do it.' "
Blunt handled the vocals and electric guitar, while the rest of the students — never more than seven people — filled in on other instruments, like bass, flute, horns, and vibraphone, or backing vocals. The band members changed depending on who was taking the class each semester, a tactic that Blunt says worked fine "as long as they didn't try to go outside of the norm and kept it simple."
Their weekly classes evolved into practice sessions, and at the end of each semester, Flaviani made it a point to record one of Blunt's songs to cassette. Over the years, he brought in numerous compositions — like the smooth, groovy rocker "Ride the Tiger," or "Whiskey Man," a cautionary tale about the dangers of drinking — all of which Flaviani recorded.
Love is another favorite subject of his, and Blunt often portrays himself as a slick-talking lothario in his songs, wooing women with lines like "Like ice, your butt is like dice now, damn" and "Come on girl, break free / And dance with me / I'll love you through the night, I'll hold you desperately." In fact, the word "girl" appears in every track on the album but one.
His music is also highly psychedelic. Lengthy free-form solos from both himself on guitar and those in his class permeate his compositions, and some of his lyrics come across as narrated acid trips. In "Trek," a blurry, island-infused dance number that may or may not be autobiographical, Blunt warbles bizarre yet highly descriptive lines like, "Eyes glazed, a purple maze / A mystical place of vision, a scene / Smokin' herbs in the field of dreams / Beats, prawns, and barbecue."
In the early '90s, Blunt and his classmates made at least five appearances on public-access television, performing songs like "Loveland" and "Caribbean Queen."
"It was pretty easy to get on," says Blunt, who organized every aspect of the TV appearances, from finding a director to hiring a cameraman.
Aside from Flaviani, Blunt was the only mainstay in each of the aired performances, often donning sunglasses, gold or purple suits, and a close-cropped afro. His classmates filled in the other positions, and even Flaviani's wife and sister played in the band for a few filmings.
Around this time, Blunt compiled some of his songs into an album called Gentle Persuasion. He brought pressings to the Mission's Aquarius Records (now Stranded Records) to see if the store would be interested in selling them.
"I remember him coming in," says Nick Ott, a long time employee at the store. "Doug was kind of soft-spoken, and I didn't know what to make of him at first. But then I threw the record on, and everybody in the store was immediately intrigued."
The store added Gentle Persuasion to its mail-order catalogue and wrote an article about Blunt that was sent out to its roughly 30,000 subscribers. The initial copies Blunt brought sold out quickly, and over the years, the store has repeatedly called the musician to restock its collection.
"People were writing to us from all over the world requesting that record," Ott says. "He's sort of an underground outsider, but he's well-known in those circles."
Though Blunt was selling albums and performing on TV, he never once played a live public show in San Francisco or anywhere else. He claims this was because "it didn't excite [him] that much," but it's possible the real reason is because he was already performing regularly at the hospital.
It started when a patient began singing and Blunt joined in, recalls Karen Jourbert, a staffing coordinator at Laguna Honda who worked with Blunt. In the 18 years he worked as a nurse in the positive care unit, Blunt performed numerous bedside shows for patients, and concerts for the entire floor.
"I'd go from ward to ward, just me and my guitar," Blunt says, explaining that he liked performing for patients because it helped "people to forget their problems and pain."
His performances caught on and became something that the patients looked forward to.
"It turned into a trend," Jourbert says. "We ended up adding another staff member who would sing along with Doug and the residents, so it really became a thing."
Blunt retired from nursing around 2006 after suffering a stroke on the way home from dropping his daughter off at school. He believes the stroke was hereditary, as two of his brothers and one of his sisters experienced them around the same age that he did. Blunt's right side was temporarily paralyzed, and he's never fully recovered. (You can hear evidence of the stroke in his hesitant speech. He also no longer plays the guitar, although he still sings.)
When he went on tour with Luaka Bop in 2016, the label organized a new band of musicians in every city that Blunt played in. He sang alongside 14-year-olds in New York City, and performed with a 30-piece ensemble comprised of formerly homeless musicians in London. David Byrne joined him on vocals at a show in Brooklyn, and a range of high-profile musicians  — such as Luke Jenner from the Rapture, Ariel Pink, and Aaron Coyne of Peking Lights — played instruments for select performances.
"Doug is one of the most genuinely sweet-natured, gentle people I've ever encountered," says Geoffrey Hug, a drummer who played in Blunt's band for some of his New York shows. "His music is completely unlike anything I'd ever heard."
The tour and album release helped drum up interest in Blunt's tunes, and it wasn't long before the French label Tricatel asked him to record a new song for a compilation album. Titled "Dreamin," it marked Blunt's first time laying down vocals in years.
People in Blunt's life are amazed by how he's changed since his music was revived. Not only has he been going to the gym, but he's started songwriting again, too.
"It's been cool to see how Doug has grown as a person and a musician," Welles-Nystrom says. "The first time [he performed] in London, it was really quite rough. He hadn't sung in front of a crowd in 30 years, and all of a sudden, he's on stage in front of a million people at a festival. But then, seeing him in L.A. a year later, he was so strong, so confident, and sang really well. It's amazing to see a person of his age just grow and learn."
The Aftermath of Fame
Blunt doesn't have social media accounts, or even a computer, so it's hard for him to gauge his success and popularity as an artist. He can't log on to the Facebook page Luaka Bop created for him and read fans' glowing reviews of his music — which has been called "phenomenal," "amazing," and "epic" — and he doesn't know that one reviewer on Amazon described him as "an accidental hero."
Blunt may have encountered the trappings of fame — such as crowds and autograph signings — while on tour. But because he lives his life offline, those moments are easy to forget. When he's home, he's just a regular person. Instead of asking about his musical developments, his neighbors greet him with the same friendly colloquialisms as always, and Blunt's daily schedule revolves less around making music than around ferrying his daughter to and from school. He's also never been recognized outside of a show, which is something Blunt is both "grateful for" and "happy" about.
But surely, the last year-and-a-half has had some sort of impact. How could you not be elated that songs made decades ago just for the hell of it are suddenly being played on TV and radio waves? How could you experience an outpouring of love and support from people around the world and not be affected?
When I ask Blunt how he feels about everything that has happened since Luaka Bop entered his life, his answers are vague and unsatisfying.
"Oh, it's great," he says. "The stuff that they're doing, it's all great."
Even the people in Blunt's life don't think the revival of his music has had that much of an impact on him.
"I don't think he really cares," says Ott of Stranded Records.
Thirteen-year-old Juanita hasn't seen much of a change in her father either, though she's noticed "he gets more things and stuff, like opportunities."
Flaviani, who has kept in touch with Blunt over the decades, also doesn't believe that the last few months have affected his friend.
"I'll call it 'sudden fame,' and I don't think it has changed him in the least," Flaviani says. "I know people who would be freaking out and sending out Facebook event invites were they in his place, but Doug's just taking it in stride."
Dissatisfied with the answer Blunt gave, I had him meet me at Stranded Records, the store where he originally sold Gentle Persuasion. I knew they had an EP of his tunes in their collection, and I wanted to see if showing Blunt a physical copy of his music, in the same record store he'd visited more than two decades ago, would have any impact on him. Would he feel proud? Excited? Or perhaps just indifferent?
It turns out he felt neutral.
"It's nice," Blunt says when I find his record in a crate of vinyl near the front of the store. "And whatever."
Were he to have experienced fame and exposure 30 years ago, Blunt would have been happier because he'd be younger and motivated "to use it to create more notoriety," he says.
But then I learn there's another factor at play here influencing his reaction: money.
"The exposure is nice," he says, "but when I came into this, I thought I would get money from my records. And I don't get any money from them."
He has a point. While Blunt was paid to go on tour and perform, the dividends he's received from selling records have paled in comparison. There are a few reasons for this. People around the world may listen to Blunt — Spotify shows that Los Angeles, Berlin, London, and Manhattan are the top cities where his music is played —  but that hasn't translated into a surge in album sales for My Name is Doug Hream Blunt. Though Blunt was paid in advance by Luaka Bop when the album was released in the fall of 2015, subsequent payments he's received have been minimal because the record has only sold about 700 units worldwide.
"It's incredibly hard to just rely on album sales today," says Welles-Nystrom of Luaka Bop. "Artists make more money on live shows."The music industry as a whole is also not as lucrative as it once was, and it functions differently than Blunt may realize. Album sales aren't the main way to make money anymore. Nowadays, touring and playing festivals are musicians' bread-and-butter, and because Blunt doesn't perform shows on his own or do any sort of self-marketing, it's likely he's missing out on a potential cash cow.
Still, that hasn't caused the label to give up or lose interest.
"We didn't expect [that] he would sell so few albums, but we also didn't put out his music because we thought he would sell a lot," Welles-Nystrom adds. "Our original intention was to try to get him to experience what he didn't get to when he first put [his album] out."
Which he has. A self-taught musician who only started recording in his mid-30s, Blunt has now toured the world, rubbed elbows with esteemed artists, and landed his greatest hits album in a number of record stores. Were Luaka Bop never to have called him, it's likely Blunt and his creations would have faded into obscurity altogether.
Inspired by old memories and research he did in the library, Blunt recently penned two songs about "a gigolo, and the other one is about money." When he has enough tracks, he plans to make another record with Flaviani. To do so would require finding additional musicians, because Blunt no longer has a classroom of eager students to pull from, and he's hopeful that the whole process "won't cost too much."
But Blunt is in no rush to put any new material out. Unlike Lee Fields or Charles Bradley — two other late-bloomer, retro acts who regularly tour and perform in festivals — fame does not seem to have an allure for Blunt.
In the last year, he may have done more traveling and singing than ever before in his life, but he's still the same guy. A fan of routine, Blunt is quite content being a stay-at-home dad, spending his days watching Judge Judy, cruising in his 1954 gold Cadillac, and writing down lyrics.
In the future, some aspects of Blunt's life might change. After she turns 16, Juanita might not need her dad to give her rides anymore. Judge Judy could get taken off the air. The Caddie might get relinquished to the junkyard. But Blunt knows at least one thing in his life will remain the same: his dedication to music.
"I've been doing things in music since I was really young," he says. "And I know that I'm going to continue making music until I die. Yes, until I die."