There's just something about riding in a vintage Volkswagen van that makes taking a tour of San Francisco so appealing.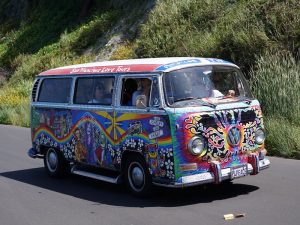 A vintage Volkswagen van covered in psychedelic, S.F.-centric paintings idles on the corner of Jefferson and Hyde streets, its doors wide open with Redbone's 1974 hit single "Come and Get Your Love" blaring through its speakers. With cobalt-blue seats, orange shag rug flooring, and plastic beaded curtains, the van looks like a perfectly preserved time capsule from the Summer of Love, replete with a license plate that reads "P4PEACE" and a pair of blue-lensed "John Lennon" sunglasses hanging from the rearview mirror. It's part of a fleet of four vans — each with their own names, like "American Pie" and "Liquid Dreams"  — owned by San Francisco Love Tours, a sightseeing company that adds a hippie twist to the regular tourist experience.
Started in January 2015, San Francisco Love Tours is the brainchild of Allan and Roberto Graves, two brothers with a passion for VW buses who learned their trade from their father, a longtime tour guide in Costa Rica. Though their buses visit many of the hotspots you'd expect for a tourist-geared business — think Lombard Street, North Beach, the Castro — the retro vans add a fun-loving flair to the experience, as well as a certain level of intimacy, since they can only sit six people at a time.
"We always wanted to create the feeling that we're driving around our relatives and close friends that are visiting from out of town," Allan says.
It's 2 p.m. on a Friday when I arrive at the meeting spot near Fisherman's Wharf, and I get assigned to a van named Sunshine, along with a family of four from Maryland who are all sipping iced drinks from Starbucks.
As we wait to board, I learn that getting to ride in an old VW van is one of the main draws for many who signed up for the tour. One dad tells me he used to own one of his own, the difference being that his "didn't have A/C," while another guy says he grew up riding in his father's.
Isabelle Blanc, the Maryland mother riding with me, says she was particularly interested in going on the Love Tour because of its connections to the counterculture and hippie eras.
"That's why we're doing this," she says, explaining that during 1967's Summer of Love she was only two years old. "That's my alter ego. I think in a previous life, I might have been a hippie."
Though she's never been to Haight-Ashbury before, the third grade teacher says visiting the crossroads has "always been kind of a dream" because she loves history.
Our two-hour tour, led by a tongue-in-cheek guide named Ramone, starts in the northern tip of the city, and cruises by such landmarks as the Golden Gate Bridge and the Presidio. Classic rock tunes by the likes of the Beatles, Eagles, and Grateful Dead soundtrack Ramone's humorous quips — "I want you to notice something on the left that's very rare in San Francisco," he tells us at one point. "A front lawn."
It doesn't take long to recognize the transformative effects that the van has on passersby. People wave, flash peace signs, or take photos of the painted bus, and when Ramone does his signature two-toot honk for a gaggle of camp kids sitting on the lawn in front of the Walt Disney Family Museum, they lose their shit.
"Hurdy Gurdy Man" by Donovan plays on the stereo as we enter the Haight and start cruising down the main drag.
"There's still some hippie vibes here from back in the day," Ramone tells us, pointing out The Red Victorian, a century-old establishment that was a free-to-low-income hotel during the Summer of Love.
"The irony now is that it's a bourgie boutique selling hippie relics," Ramone says.
"There's probably a lot of irony like that around here," adds Rick, the head of the Blanc family, who I later learn plays bass in a dad band called Soul Party.
"Yeah, that's capitalism for you," Ramone responds.
We drive through the intersection of Haight and Ashbury, where Ramone points out the uncommonly high streets signs that are placed there to prevent thefts. ("The signs here are high," he says, "just like the people.") He points out Hells Angels founding member Sonny Barger's house, which just so happened to be on the same street as apartments that Janis Joplin and Jerry Garcia once lived in.
Rachel, the college graduate daughter who has a small, white shell wrapped into a lock of her hair, recently attended her first Dead & Company concert in Virginia, and she scrambles to get a shot of Garcia's former residence before we drive away.
"This was the epicenter of the counterculture and rock scene," Ramone explains, pointing out the gate intended to keep Deadheads from knocking on the door and camping out on the building's front steps in the hopes of seeing "Jerry."
"I think it's interesting how it's rising again," Rachel says of anti-Establishment movements. "There's the same kind of hate against the government now as there was then."
Her mother agrees.
"We live in the throes of it, because we're near D.C., and we really don't love all the hate," Isabelle says. "If there's one thing I teach my kids, it's kindness. If you're kind and respectful, everyone can coexist."
Ramone steers us past Dolores Park, where we get out to take pictures of the city's skyline, and he turns on Survivor's "Eye of the Tiger" as the Volkswagen slowly trudges up a street in Russian Hill. Toward the end of the tour, as we creep through Fisherman's Wharf, a Baby Boomer in a white visor and sunglasses runs in front of oncoming traffic to hail down our bus.
"How do I get on one of these?" she asks Ramone, clutching the rim of the van's open window.
"You go online to our website," he answers.
Sensing she wasn't satisfied, Ramone then reaches into the glove compartment and snatches an old-school, paper business card to give to the woman.
"Here, have this," he says, handing her one.
She clasps it with two hands. "Thank you," she says, and then steps back into oncoming traffic to rejoin her family.
San Francisco Love Tours
Sanfranciscolovetours.com or 415-366-6156