A few weeks ago, Vince Masi's website, skatedrinkdance.com, crashed due to a virus.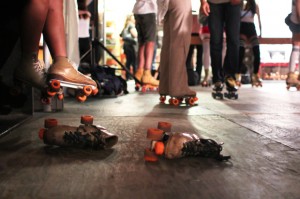 It has since been cleaned, resuscitated and put back online, but Mr. Masi has yet to recover. "It was a nightmare," he said. "I think that was probably, like, the most despair I've had to deal with."
It wasn't the worst thing that's ever happened to him—a few years ago he had to shack up with his mom when a business plan fell through and once he irreparably damaged his car by loading it with too much stuff—but it was one of the first things he couldn't fix on his own. Why? Because he doesn't speak that language, he said.  "I don't speak nerd code."
So, he's not tech savvy. But he is the king of retro, the sultan of skating, the heart and soul behind an ingenious event: Down and Derby, a roller-skating dance party held once a month at Dekalb Market in Brooklyn.
But this wasn't the case six years ago. Mr. Masi, a Pittsburgh native, moved to New York City to pursue a career in business and marketing. For years he worked for Red Bull, starting at the bottom as part of the street marketing team and slowly ascending the ranks to the position of on-premise manager for the five boroughs. "It was an awesome job," he said, one that he enjoyed and had every intention of keeping, even after he started throwing roller skating parties. "I never expected this to happen," he said of his complete career change. "Nope, never."
But it did. His early parties started in Pittsburgh in empty warehouses with temporary, handmade rinks, free booze (because they had no liquor license), less than a hundred pairs of skates, and more than 800 attendees a night. Over the next few years, as word of his parties grew so, too, did their venues. Down and Derby parties are still held in Pittsburgh on a monthly basis, but now they have expanded to Los Angeles, Las Vegas, Denver, Boston, Manhattan, Brooklyn, Miami and, soon, Nashville. In 2008 and 2009, Mr. Masi brought roller-skating to the South by Southwest festival in Austin, Texas, and in 2010 and 2011, he brought it to Coachella. He's held parties in casinos, Beauty Bar locations, outdoor campgrounds and hotel lobbies. He's been sponsored by Scion and Evian, Red Bull and Saucony. Sometimes his parties have themes—hair metal, the 1950s—and other times they have weird props—freight elevators, chairs on wheels. And the music is never the same. "I trust the DJs," Mr. Masi said. "I let them play what they want."
One thing you can always count on at Down and Derby is the old-school skates. Because most people don't own quad skates, Mr. Masi brings a few hundred pairs, from his own collection, to rent out at each event. But amassing these skates was no easy feat. For the last four years he's been scouring the Internet, utilizing Craigslist and eBay, and calling skate rinks that are going out of business in the hopes of acquiring more skates. "It's a constant search," he said, one that continues to this day. In fact, the difficulty of finding skates is one of the main reasons why he believes no one else has bought into the roller skating party trend. "It's just so hard to find them," he said.
Outlandish dress is the other constant at his parties. Without fail, there is a preponderance of booty shorts and headbands, knee socks and neon, crazy printed tights and sunglasses. "The dress code is fun for them," Mr. Masi said. "A lot of people go out of their way to dress pretty awesome and I think getting ready for the party is an event itself."
Last Friday, Mr. Masi held the second Down and Derby skating party at the Dekalb Market in downtown Brooklyn. As expected, all sorts of characters attended the event. There was a tan old guy in the white bell-bottoms; a hipster in a one-piece jumpsuit, striped socks, and red headband; a gaggle of girls in American Apparel short shorts, neon tanks, and, of course, headbands; a woman in Yoko Ono sunglasses; a guy in swim trunks; a couple who tried to dance-skate; a baby boomer who tried to roller-skate-break-dance; a couple of first-daters who stood on the sidelines and watched; newbies who fell on their butts; stiffer newbies who skated like robots; a dude in the sneakers that had wheels; and experienced roller derby players who showed off their skills.
The wood plank floors at Dekalb Market made it easy for skaters to get around and the assortment of food venues and picnic tables provided refuge for those who needed a break. As the sky darkened, strings of light lit up the main skating area and infectious disco tunes cooed from the speakers. People fell, but no one laughed at them. They were in party mode, partaking in a dance nirvana, and well aware of the fact that they, too, might fall.
Asked why so many people are attracted to his events, Mr. Masi proffered a few theories. Most everyone likes to dance, but the appeal of this event is also nostalgic. "It's like your fourth grade birthday party," said Mr. Masi, speaking from personal experience. "Everyone's been to a birthday at least one time when they were a kid at the roller rink."
He theorizes there's a second possible nostalgia source: "Some of the cats that come here might have been rave children in the 90s that kind of grew up," he said. "And all of the new rave babies. They don't know what quad skates are, but they can sense the fun."
So far it seems to be working. Until September, Mr. Masi will continue hosting monthly Down and Derby events at Dekalb Market, and will start searching for a new venue in the fall.
"I keep waiting for the bottom to fall out," he said, remarking on how lucky he's been. "But out of six years and [the website crashing] is the only bad luck I've had?" Mr. Masi said. "I'll take that any day."