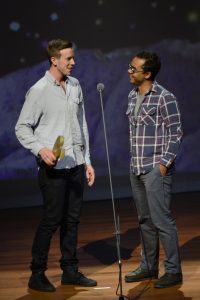 Perfection is overrated. It's boring and predictable and uninspiring. But imperfection? Now that's fun.
Take for instance last night's 2012 Vimeo Awards show. Within the first few minutes, the audio crapped out. Awkward silence ensued.  The light projections turned on and off sporadically.  Jokes were occasionally lost. Awkward laughter ensued.  The audio crapped out again.  Some award presenters missed their cues.  Others read verbatim off the teleprompters.
Imperfection might be, um, imperfect, but it is also endearing and refreshing. And, given that this was only Vimeo's second semi-annual award show, we'll cut them some slack. After all, it wasn't the show that people were there for, it was the films. And not just any films: user-generated online films.
For those not in the know, Vimeo is an online video sharing platform. Like YouTube, it is open to the public, but that's about all they have in common. For one thing, Vimeo often curates content to feature, which means that a team of editors regularly sorts through the collection to highlight what Vimeo president Dae Mellencamp said are "interesting, inspiring, different, and unique" films. Since 2007 the films on the site have also been shown in high definition, making Vimeo the first site of its kind to do so.
But Vimeo also does something else: it encourages fledgling filmmakers (not just new parentsand cat owners) to go forth and create. "This is where we believe the next generation of great filmmakers are," Ms. Mellencamp told The Observer last night. "Their work will be the work that millions watch. It's not just a niche thing. Amazing filmmakers come to the site."
To award said amazing filmmakers, Vimeo holds an award show every 18 months. And, because they only started doing this in 2010, this was only their second awards show, hence the handful of blunders, which, remember, we found quite endearing.
But the people at Vimeo are not dolts. They know there were a few mistakes. "We've learned a lot from what happened tonight," Vimeo festival director Jeremy Boxer said. "But I think the most important thing is that we're all very confident that we were making the right decisions. Sometimes things just happen."
Indeed they do. And fortunately, Vimeo is pretty good at rolling with the punches. After their 2010 awards show, the team decided that they needed more categories to adequately represent the many genres of films listed on their site. So they added three more. They thought their award trophy—a huge, serif font "V"—was too shiny and it's base too flimsy. So they designed a new one. For more space, they moved the event to NYU's Skirball Center. And instead of a host, they decided to try something new.
"We've always wanted to push the boundaries of what we do," Mr. Boxer said. This year the Vimeo team took a risk and hired two improvisational performers: comedian/musician Reggie Watts and British beat boxing D.J., Darren Foreman, aka Beardyman. Weird, yes, but also kind of brilliant. Booty-bouncing, bass-blaring club music was a welcome accompaniment. "It's difficult to break the repetition of an award show," Mr. Boxer said, "and our idea was to kind of have these different elements to break it up with the different forms that you wouldn't have in a normal award show."
This year, Vimeo received over 14,000 entries from filmmakers in more than 100 countries around the world. Over 30 judges were part of the selection process and included James Franco, Aziz Ansari, Travis Rice, and others. The winners of each category, of which there were 13—captured, series, music videos, narrative, experimental, animation, remix, action, motion graphics, documentary, and the three newest, advertising, fashion, and lyrical—received grants of $5,000 to be used for the development of future films. And the grand prize winner received $25,000.
"We did not expect to win. But, I mean, do you ever expect to win?" said Julius Metoyer, a member of the grand prize-winning team, Everynone, who were given a trophy for their collaboration with WNYC's Radiolab, a video called Symmetry. The money, he said, will be used to fund "three or four really serious projects." And once they're finished, they'll upload them to Vimeo.
"That's the best way that people can see it," Mr. Metoyer said. "That's the one and only outlet that we have."