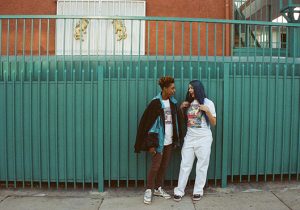 IT'S SPRINGTIME IN HOLLYWOOD. The sky is cloudless and blue. Tourists bake in the sun and the Hollywood sign winks from the hills. A low-flying plane poops smoke trails overhead. On the rooftop of a 1920s apartment building, two girls are smoking a joint and listening to music from a cell phone.
"Genius, right?" says the girl with the blue hair, who goes by the name Twiggy Rasta Masta. She has gold-encased teeth and a slight Spanish accent. Brown liner is stenciled around her lips and a gold chain hangs from her neck. The inside of her left wrist reads, "Yeah!"
"So good," agrees her friend, Bootychaaain. She has short hair, like a boy's — curly on top, buzzed on the sides. Her nails are teal and over three-inches long, perfect for holding stubby joints.
Busted out the womb, is the Young Daughter, sings the third member of their crew. Heard your ass was thirsty/Need some fuckin' water. Her voice is wan and she sounds bored. 
It's been over two years since the trio formed their alt hip-hop crew, Snob Mobb. The girls met in Miami, where Twiggy and Young Daughter are from, learned that they all rapped, and decided to form a group. They collaborate on tracks together and support each other vociferously on social media. But though they are all part of Snob Mobb, for the most part, they operate as solo artists. Twiggy is the most notorious and prolific member. If the group had a leader, it would undoubtedly be her.
Twiggy started freestyling in middle school, but it wasn't until she attended college that she started writing and recording her songs. She posted her first music video on YouTube — shot "selfie style" in front of a white wall in the locker room of the gym–and immediately got a lot of attention and response. The feedback, both positive and negative, was encouraging, she says, and motivated her to produce more.
She met Bootychaaain soon after ("Twiggy's hair was black and she had on these high-wasted shorts. She brought hella weed and I was like, 'She cool.'"). They both hung out at the same mutual friend's house and one day found themselves holed up indoors because of Hurricane Sandy. To stave off boredom, they concocted a freestyle about the storm. Young Daughter entered the picture soon thereafter, and they formed their crew.
Twiggy released her first mixtape, a 14-track project called Santeria Pu$$y, in the summer of 2013. By the end of the year, she released two more, Slutz Have Feelingz 2 and Fuck Yeah! $5 Million, as well as a handful of music videos and a dozens of featured tracks. This year, Snob Mobb released the collaborative mixtape, Trikksquad Monopoly, and Twiggy is currently at work on Santeria Pu$$y 2.
Twiggy's music is raunchy and hilarious, or as she's described it, "ignorant and fun." Though rapping is her singing-style of choice, the sound of her music varies from song to song. She has songs like, "Goony Chonga Barbie," which is hyphy and bass-heavy and sounds like it came straight from the Bay Area, and songs like "I Am Onna Wave," which is trippy and strung-out, and almost too weird and experimental to be grouped into any genre. Twiggy's voice is high-pitched and elastic, and when she wants, she can spit incredibly fast. She likes to adopt different personas in her songs ("They just come to me," she says), which gives her music a varied, all-over-the-charts sound.
But if you listen closely enough, you'll notice a certain consistency to her music. She might be signing about ecstasy on a psyched-out, early 2000's techno beat or crooning about not being mad on a hazy track with her ex-boyfriend, but her trademark personality and attitude are still there. She says, "Fuck, yeah!" a lot and slathers each song with a thick layer of attitude and a pinch of not giving a fuck. She's serious, but not that serious. She cares ("Fuck yeah!"), but not that much ("I don't give a fuck").
It's Twiggy's forthrightness and willingness to be extreme that has gotten her the most attention. Her outfits alone entice people to ask for a picture with her even though they don't know who she is. She has over 3K followers on Twitter who gleefully retweet and favorite all of her lurid and confessional posts. Her Tumblr fans drool over her selfies and read her poetry, which sound like pages from her diary. Her 2K-plus listeners onSoundCloud write notes like, "Spit dat shit girl" and "Killin it!"
Most of her fans (known as the Slut Mobb) are in the U.S., but she has fans in Canada and Europe, as well. Through social media, they ask her questions about family and personal problems and for advice on love and dating. But mostly, they talk about her. They want to know if she has kids and if she can twerk? What happened to her left eye (childhood accident), and if she finished high school? (She did.) They ask her opinions on other rappers and how she feels about gay rap. Which drugs has she taken and if she's ever been to Art Basel (and if so, what did she think)? They ask her everything and anything they can think of and she answers them all.
When it comes to full-disclosure, Twiggy knows no boundaries. Her songs are ripe with intimate details about her sex life and it's common knowledge (at least amongst her fans) that she's a stripper on the side. Snob Mobb's promotional gear consists of condoms, G-strings and boxer shorts. "Like, I don't care," she says. "Everybody should just be themselves and say what they want and express themselves however they want." In both her music and social media presence, Twiggy keeps it real, or, as the kids say, based. In everything she does, her message rings clear: Be yourself. And revel in it.
At the time of this article's publication, Twiggy Rasta Masta's has changed her name to La Goony Chonga. Listen to her music on Bandcamp or SoundCloud.