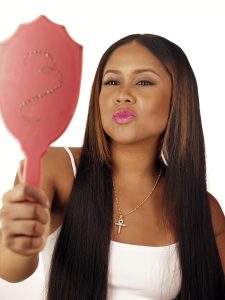 "Don't screw this up," Jay-Z joked when he bumped into Angela Yee '97 in the hallway. She laughed—she'd known Jay-Z for years and was used to his quips—but still, he was right. Oh man, she remembers thinking, the pressure is really on now.
It had been a little over two months since she started co-hosting a morning show at Sirius Satellite Radio and they still hadn't hired her. Because she'd never worked in radio before, they put her on a trial period with no pay and no guarantee of getting the job. For the next few weeks, she worked diligently to prove herself by arriving early at the station and leaving late. She worked on slowing down her speech and making the inflection of her voice less monotone. She expunged words like "um" and "like" from her vocabulary. She watched popular television shows so that she could talk about them on the air and started a daily habit of reading gossip and news websites. She went to sleep early. She stopped socializing. "Every fiber of my being was dedicated to getting the job," she recalls.
She told all of this to Jay-Z as they walked to the studio on that Wednesday morning in February of 2005. As luck would have it, the day was also a holiday: the Chinese New Year. That evening, Yee, who is half-Chinese, would be celebrating with her family over dinner, but first she had a show to do.
The interview went unexpectedly well. In fact, it was a huge success. Yee was on a roll, making both the host and guest buckle up in laughter on more than a few occasions. Her questions were fresh and her remarks were clever. She dug for the truth and she mined Jay-Z for stories. Never before had Yee been as funny and witty on-air as she was that day. She led the show with such aplomb that even the host was impressed. "You trying to take my job or something?" he joked good-naturedly. Jay-Z chimed in—he, too, had noticed how well Yee was running the show. "Yeah, you better be careful, man," he said.  "This one right here is gonna come up big."
After the show, they hired her.
Fast-forward to today and Yee is one of the most well known and highest paid radio personalities in the country. She's a host on the award-winning morning talk show, The Breakfast Club, which airs on Clear Channel's Power 105 radio station in New York, and her voice reaches millions of listeners each day. The show, not to be confused with the classic '80s film with the same moniker, is a three-hour blend of news, gossip, new music, and of course, interviews. Everyone from Dr. Oz and Justin Bieber to Magic Johnson and Arnold Schwarzenegger have appeared on the show, as well as many of the biggest names in rap and hip-hop. Instead of traditional, run-of-the-mill questions, Yee and her co-hosts, DJ Envy and Charlemagne Tha God, ask personal, revealing and oftentimes bizarre questions. Instead of run-of-the-mill interviews, they have conversations with their guests. Fans love the show for its candidness and the insight they glean about their favorite musical artists. And artists love the show because, "It's kind of a one stop shop," Yee said. "You do our show and it ends up everywhere."
In less than four years, The Breakfast Club has become a nationally syndicated program, airing on 18 markets during the week and 54 on the weekend. It received the Excellence in Broadcasting Award from the New York State Broadcasters Association this year and was named the Number 1 Radio Program in the Nation by The Source Magazine in 2013. Videos of the show regularly amass hundreds of thousands of views on YouTube, and as of March of this year, it has even been turned into a cable TV show of sorts.
Outside of The Breakfast Club, Yee is still very much in the public eye. New York Magazine named her one of the "50 Most Influential New Yorkers on Twitter" this year, ranking her after Hillary Clinton and Alicia Keys, respectively. She's been a correspondent for MTV, a guest on NBC's Open House NYC, and last year, she was a cast member on the VH1 reality series, The Gossip Game. In addition to television, she's written columns forVibe Magazine and acted in several music videos. Right now, she's working on her first film, Brooklyn Bred. And maybe after that, she'll finally write her novel.
Yee never planned on going into radio. In fact, it wasn't even a consideration. When she graduated from Wesleyan in 1997 with a degree in English, her plan was to be a writer. She moved back to her hometown of New York City and got a job doing temp work so that she could write in her spare time. But, alas, after two days of work, she quit. "It's really hard to do a job that you can't stand and that's not for you," Yee said.
On the third day, instead of showing up to work, she visited the offices of her former summer internship, Wu Tang Corporation, where they offered her a job on the spot. For the next few years, she worked as the assistant to the CEO and then in the marketing department for the rapper Eminem's short-lived clothing line, Shady Limited.
By the time she turned 28, she was ready for a career change. Because she didn't know exactly what she wanted to do—at this point, she'd put writing on the backburner—she turned to Internet job sites for inspiration. "I knew I wanted to do something different," she said, "I just wasn't one-hundred percent sure what." She saw an opening at Sirius Satellite Radio in the marketing department and that piqued her interest. But there was another opening at Sirius, too: they needed a female co-host for a morning talk show.
Yee knew next to nothing about working in radio. Though she flirted with the idea of being a radio personality on Wesleyan's WESU 88.1 FM station in college, she never completed the training sessions—"just too boring" is how she remembers them. "In hindsight, though, I wish it had been something I'd learned and pursued back then," she says. "But who knows? Maybe things wouldn't have fallen into place the way they did for me."
Indeed, luck was on Yee's side when she applied for the position and got it—at first, temporarily, and eventually, as a permanent gig. While at Sirius, she worked her way up from cohost of the morning show to host, and created her own shorter segments, as well. Not only was Yee the only female host at the station, but she geared her shows, like one called "Lip Service," specifically for female audiences.
After six years at Sirius, Yee decided she was ready to make the jump from satellite to FM radio. Although there are perks to satellite radio—there are no commercial breaks; you can talk for as long as you like—traditional radio has more possibilities. The pay is higher and there are endorsement and advertising deals, to boot. The job also comes with substantially more influence and leverage because more people listen to traditional radio than they do satellite. "Everybody in New York knows who you are because everybody in New York has the station," Yee said.
When Power 105.1 offered her the female co-host spot on their new morning talk show, she accepted without hesitation. "It felt like the right thing to do," she said. "These jobs are hard to come by, so being able to work in New York, which is the number one market, was a dream come true."