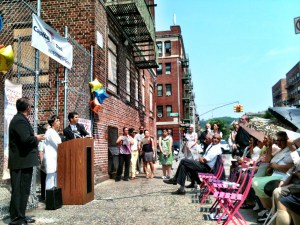 Last Friday morning, Felix Guzman woke up early, grabbed his fishing pole, and headed over to the East River for some catch and release fun. For 40 years he has lived in the same building on Academy Street in Inwood and in that time he has "seen a lot." So when he got back to his apartment around 11 am and saw that his street was teaming with newscasters, elected officials, cameramen, and local community members, he wasn't surprised. They'd been there before. "It's always been tough here," Mr. Guzman said. "I'm glad they're doing something about it."
The building in question was 552 Academy Street, a crumbling 72-unit brick building located across the street from Mr. Guzman's apartment. A year ago he had stood outside and watched as dozens of tenants dragged their belongings onto the sidewalk, confused and frightened and wondering where they would relocate to next.
The building, the city told them, was unsafe, which was why they had to vacate the premises. Although Mr. Guzman had never been inside, he heard rumors that at times the units lacked gas, running water, and electricity. "This is what happens when you get these slumlords and all they care about is the money," Mr. Guzman said, referring to the building's landlord, Rachel Arfa, whom the City blames for the hazardous conditions.
With the help of the Department of Housing Preservation and Development, the tenants—31 families in total— were relocated to temporary apartments around the city, in neighborhoods like Hillside, Thayer, and Elmwood.
But on Friday, many of the tenants were back in their old neighborhood, rubbing shoulders with the suits and construction workers who were there to announce the good news: 552 Academy Street would be rehabilitated and open for residency in the next 18 months. As part of Mayor Michael Bloomberg's New Housing Marketplace Plan, the structure has received $21.1 million in funding that will be used to rebuild, stabilize, and improve the old, defunct building.
"This is a really big step for us," said Iris Bertoni, a representative of the building's tenant association who had lived in the same apartment on the third floor for 50 years. "We're coming back home."
In addition to improved mechanical, electrical, and plumbing systems, the building, which was formerly a walk-up, will be redesigned to include an elevator line, a community room, and new kitchens, bathrooms, and laundry room. The renovations, which will modernize the building and bring it up to code, are the result of a lengthy  battle between the City and Arfa for possession of the building. According to the Department of Building's website, Arfa was charged with allowing "structural stability and egress issues" to develop over the last ten years, and has since been removed as the building's owner.
"This building has a history that is unfortunately not as uncommon as we would like," HPD Commissioner Mathew Wambua said,"but one thing that it has in its favor is a support network equal to no other." The rehabilitation of the building, Mr. Wambua said, as well as the selection of a new owner, will be spearheaded by the Community League of the Heights (CLOTH) and Alembic Development Corporation.
Council Member Ydanis Rodriguez, who donated $1 million to the project from his discretionary funds, was at the event on Friday, donning a plastic hardhat and black suit. "I feel great," he said minutes after plunging a golden shovel into a pile of dirt as part of the symbolic groundbreaking ceremony. Not only was he glad that the tenants would be able to return to their former homes, he said, but he hoped that the event would serve as a warning to inept landlords throughout the city. "We have no tolerance for negligence," he said. "This is a message to any other landlord who doesn't reflect what they are supposed to be doing in terms of providing decent living situations for their tenants."
The new units, which will not only be affordable, but top quality, also excite Mr. Rodriguez who hopes that it will encourage more people to move to the Inwood neighborhood. In the last 10 years, "we have lost 18,000 residents," he said. "People can't afford to pay the rents." The average annual income of residents in the neighborhood is $30,000 a year, he said, adding that he hopes the revamped and reasonably priced 552 Academy Street building will be the start of a new housing trend.
Across the street, wearing a black "I Love Inwood" tee shirt, Mr. Guzman mused about the past, present, and future of his neighborhood. "A lot has changed," he said, referring to the demographics and socio-economic levels of his community. Inwood has had its ups and downs, he said, and although he still loves it (hence his shirt), the neighborhood is due for a change. Improving the conditions and affordability of the residences is a first step, but Mr. Guzman hopes to see more improvements.
"For one thing," he said, leaning on his fishing pole, "it would be nice if some of these people hired the people in the neighborhood to do some of the work, like labor and construction. A lot of us are unemployed and it would be nice to be a part of the community."